Hemingway's Restaurant Information For Guests of The Sands at Grace Bay
Perched on the scenic shore of Grace Bay Beach, Hemingway's beachfront restaurant in the Turks and Caicos islands offers a casual atmosphere and elegant open air dining, complemented by a menu full of choices that feature fresh ingredients and island-inspired flavors. This legendary island restaurant is located at The Sands at Grace Bay in Providenciales.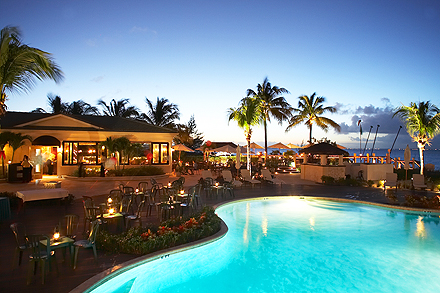 Here is some helpful Hemingway's restaurant info.:
Hours of Operation:  Hemingway's is open daily between the hours of 8am to 10pm
Breakfast: Is served between 8:00am to 11:00am on weekdays, and from 8:00am to 12:00pm on weekends
* Sample breakfast menu items include Toasted Almond Pancakes, Cinnamon Raisin French Toast, and Huevos Rancheros La Tequila
Lunch: Lunch is served daily between 11:00am to 6:00pm on weekdays, and between 12:00pm to 6:00pm on weekends
* Sample lunch menu items include Conch "The Way You Like It", Sweet Chili Steak Salad, Mango Shrimp Salad, Soft Fish Tacos, and Caribbean Jerk Marinated Chicken
Dinner: Dinner is served between 6:00pm to 10:00pm, 7 days a week
* Sample dinner menu items include a wide selection of appetizers, freshly caught fish from the sea (ask the server for the day's catch), Grouper Creole, Seared Ahi Tuna, Shrimp Pasta, Filet Mignon, Rack of Lamb, Curry Shrimp, Thai Chicken Stir Fry, Crab cakes and more
Dessert: For those with a sweet tooth, Hemingway's will be sure to please with its selection of desserts that range from key lime pie, to homemade brownies and fried ice cream and even Bacardi rum cake.
Bar: Hemingway's offers a full service bar that features everything from specialty cocktails and beers, to a wide selection of wines by the glass or bottle. After dinner drinks and a selection of cigars and t-shirts are also sold at Hemingway's.
Live Entertainment: Live music and entertainment can be enjoyed by restaurant guests dining at dinner every Monday, Tuesday, Thursday and Friday
MENUS: Downloadable restaurant menus are featured on our website at the following link: http://thesandstc.com/the-resort/dining/
PHOTOS: For restaurant photos visit The Sands at Grace Bay Pinterest page at the following link: http://www.pinterest.com/thesandstc/beachfront-dining/
WEDDING DINING PACKAGES: Hemingway's also offers special dining packages for couples who wed at The Sands or wish to host their wedding reception on the beautiful Hemingway's deck overlooking the ocean. These wedding dining packages can be viewed here, by clicking on the "dining" tab: http://thesandstc.com/weddings/