Our award-winning Hemingway's beachfront restaurant has been serving up a delicious Rum Punch cocktail since the restaurant first opened – and after receiving several requests for this coveted recipe, we have decided to share it with our blog readers. Not only is this drink the perfect way to cool off after soaking up the sun all day on Grace Bay Beach or beside one of our three swimming pools, but it's also a delicious and easy summer cocktail recipe that is perfect for summer parties! This recipe is such a hit here on the island that we serve it to our guests at our own very Tuesday Manager's Cocktail party and even as a special "welcome to Turks & Caicos" check-in cocktail when you first arrive at The Sands at Grace Bay.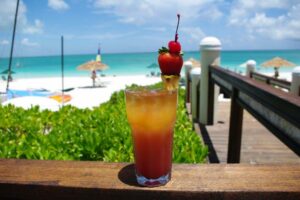 Hemingway's Beachfront Restaurant "RUM PUNCH" Recipe:
1 oz Bambarra Coconut Rum (a local Turks & Caicos Island rum)
1 oz Bambarra Dark Rum
3 oz Orange Juice
3 oz Pineapple Juice
1 oz Grenadine
Float with Myers dark rum
Finish with a cherry/pineapple garnish and ENJOY!  Whether you're on our beautiful beach or hosting a party at home with your family and friends – this tropical drink recipe is sure to please all!