Turks and Caicos Catamaran Tours With Reef Peepers
If you are travelling to Provo with a family or group of friends, consider booking a half or full-day private sailing excursion – you'll have an island and reef all to yourselves for the day!
These sailing excursions are offered by our friends at Reef Peepers, a Provo-based company that explores the Turks and Caicos aboard its own 48-foot, world-class catamaran.
 Catamaran tours of the Turks and Caicos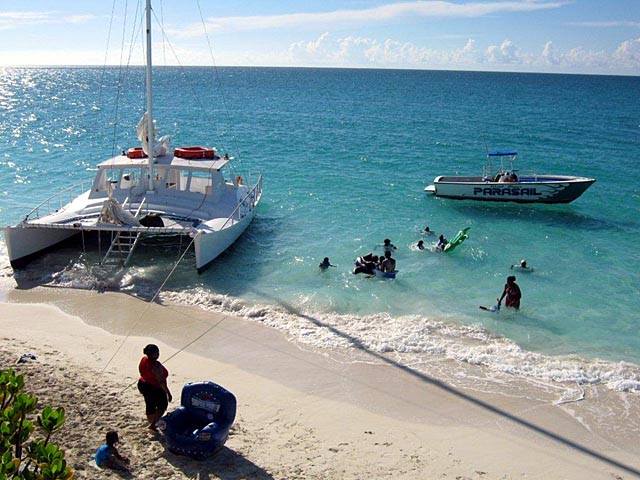 Reef Peepers offers half-day private catamaran charters, providing a morning or afternoon of sailing, snorkeling, swimming, and the opportunity to enjoy your own private Caribbean beach.
Regular group trips depart from Turtle Cove, about ten minutes by car or shuttle bus from the Sands resort on Grace Bay.
After departing Turtle Cove, the catamaran stops at several resorts to pick up more guests before setting out for cruise eastward along Grace Bay.
Provo's Iguana Island
The first stop is Iguana Island at the eastern tip of Provo.
As the name suggests, Iguana Island is home to an iguana sanctuary. At this stop, after being greeted by a stampede of friendly lizards, a local guide will explains the efforts and programs in place to protect the Turks and Caicos rock iguana (Cyclura carinata)  from extinction.
Snorkelling from the Island Magic catamaran
The next stop is a barrier reef for snorkeling. At the reef, guests snorkel at their leisure. Be on the lookout for dolphins, eagle rays, and about a dozen varieties of multicolored reef fish.
Once everyone is out of the water, rum punch and snacks are served aboard the catamaran while the tour heads to a secluded beach location.
Relax in the sand, stroll the powdery white sands that have made the Turks and Caicos famous all over the world, go swimming in the turquiose waters, and take photos of your group.
After that the Island Magic hoists the sails for a lovely sail back to the resort.
Great for destination weddings and more
There is a a minimum of ten guests for excursions, and up to 20 additional guests at $95 per person.
Whether you're planning a wedding, family celebration, business outing, or want to explore our remote corner of the Caribbean, you will have the experience of lifetime with Reef Peepers.