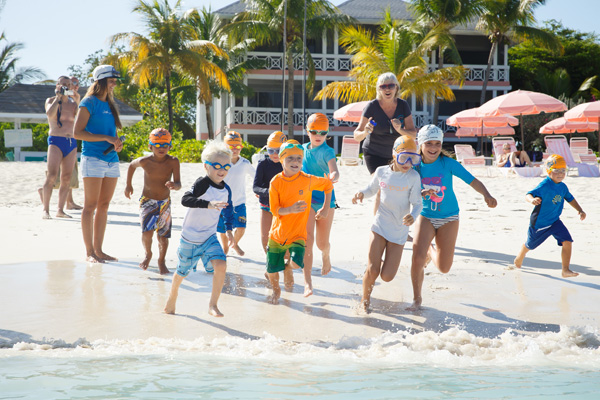 Spring Break is a perfect time to enjoy clear blue skies and crystal-clear waters of Providenciales. Our island in the Caribbean is a family-friendly paradise promising a variety of beach holiday adventures. Here are just a few ideas:
Go Snorkeling at Coral Gardens
Also known as Bight Reef, the Coral Gardens snorkeling area is just a short walk down the beach from the Sands at Grace Bay resort and is one of the most popular snorkeling areas for families in Providenciales. The shallow waters can be reached right from the beach, the diversity of fish, there are clearly marked boundaries, and the safely roped off area make this a great spot to bring children to snorkel.
Plus, families staying at The Sands at Grace Bay may use our resort's complimentary snorkeling gear to bring to this popular snorkeling site.
Visit the National Environmental Centre
The National Environmental Centre (NEC), located on Lower Bight Road in Providenciales is perfect for families. The exhibits and displays within the Centre focus on the natural habitats and ecosystems of the Turks and Caicos Islands. There are also rotating exhibits, highlighting ongoing research activities in the Islands.
The Children's Park is located nearby.
Join the Thursday Fish Fry
Also at the Bight, every Thursday from 5:30pm to 9:30pm, over a dozen local food vendors, entertainers and cultural acts come together for Island Fish Fry to create an evening of "all things TCI."
Visit Chalk Sound
The western half of Provo is mostly barren wilderness, home to the island's best natural attraction, Chalk Sound National Park. The park is a three-mile-long (5km) bay a few miles southwest of downtown Providenciales. The color of the water is a uniform turquoise and studded with countless mushroom-like tiny islets.
Visit "Iguana Island"
Several Providenciales tour providers offer round trip boat rides and snorkeling excursions that include a visit to Little Water Cay. Also known as "Iguana Island", this small, protected cay is home to thousands of endangered Turks and Caicos Rock Iguanas.
These large lizards may look scary at first, but they are actually harmless and shy herbivores. A walking trail through Little Water Cay offers visitors an opportunity to view these incredible reptiles up close, as they sun along the sand and rocks of their protected island.
Relax on Grace Bay Beach
Recognized as one of the top 1o beaches in the entire world, Grace Bay Beach combines heavenly turquoise waters with powdery, soft sand, perfect for a romantic getaway, or a special retreat for your entire family.
Easy Eating Options for Families
The fully equipped kitchens and comfortable dining areas in our one, two, and three-bedroom suites provide families the convenience of preparing home-cooked meals during their resort stay.
Our studio kitchenettes include a mini-fridge, microwave, toaster, coffeemaker, dinnerware and cutlery.
For shopping, there are several options:
IGA Grocery Store
Open year-round, the Graceway IGA grocery store is Providenciales' main supermarket that offers a wide selection of food, fresh produce, meats, beverages, a deli, bakery, and everything your family might need to stock your kitchen and prepare snacks and meals during your stay at The Sands at Grace Bay. The IGA grocery store is within biking distance or a short taxi ride away from our resort. Taxi fares from The Sands at Grace Bay to the IGA store are $10 per adult and $5 per child, each way.
Convenience Store
The Sand Dollar convenience store is located right in the Sands resort, and is open daily from 9am to 7pm (5pm on Sundays. The Sand Dollar offers a light selection snacks and beverages as well as t-shirts, tote bags, hats, sand castle kits and more.
Family Dining on Grace Bay Beach
Hemingway's Restaurant
Featuring a spacious poolside deck just steps away from Grace Bay Beach, Hemingway's is a great place to relax and unwind with your family after a day of fun in the sun and enjoy live entertainment, tasty bites, and the cool ocean breezes.
Our beachfront open-air restaurant boasts a casually elegant family-friendly atmosphere and is open daily for breakfast, lunch, and dinner. Our award-winning restaurant boasts a popular kids menu for children 12 years and younger, as well as island-inspired cuisine and delicious cocktails for grown-ups.
Bugaloo's
Located off the-beaten path and offering a laid-back beach dining experience, Bugaloo's is family favorite with local families. It serves up fantastic food daily for lunch and dinner including freshly caught fish and conch and is located right on the beach so your kids can swim and play while you enjoy the ocean views and relaxed atmosphere.
Bugaloo's is located in Providenciales' Five Cays Settlement, which is a 20-minute car or taxicab ride away from our resort. Read what other travelers are saying about Bugaloo's.
Giggles Ice Cream & Candy Parlour
Located just a short drive or bicycle ride away from the resort, Giggles ice cream and candy parlour offers some of the island's sweetest treats and desserts and is a fun family destination for those traveling with kids. In addition to its selection of candies, pastries and pies, Giggles is known for serving up delicious cool treats on hot sunny days including soft and hard serve ice cream, low fat yogurts and sorbets, milkshakes and floats, as well as banana split and hot fudge sundaes.
Child Minding at The Sands
Our in-room babysitting services allow parents to enjoy a romantic dinner, a couples spa treatment, or quality alone time together during their family vacation.
START PLANNING YOUR SPRING BREAK
If this sounds like fun, contact us to start planning your family spring break in Turks and Caicos.