3 Beach Travel Caribbean Vacation Accessories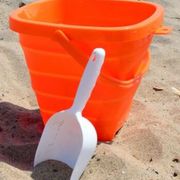 Travel Weekly recently featured a "Great Beach Accessories" article with some terrific and functional travel products that are terrific for those heading to a Caribbean beach destination this fall or winter. Here are a few of the recommendations that we loved, that may be great optional accessories to bring with you to your Turks & Caicos stay at The Sands at Grace Bay:
Fivesse Beach Tote: This is a family-friendly water resistant bag that has interior pockets reserved for everything you need to bring or collect during your day at the beach including pockets for collecting seashells and souveniers, carrying books, cell phones, credit and room key cards, sunscreen, water bottles and more. http://www.fivesse.com/Beach-Bags-s/1844.htm
Packable Pail: This is a collapsible beach pail that looks just like a full size beach pail but it will conveniently fit into your suitcase and beach bag. Enjoy building sand castles and having fun with the family along Grace Bay Beach with this washable, foldable and durable pail that also includes a sand shovel. www.packablepails.com.
Real X Cooling Cap: This "cool" hat is activated by dunking it in water and will become 20 degrees cooler than the outside temperature as it evaporates slowly. This is a quick and easy way for you to cool off from the heat and protect your face from the sun during a day at the beach or while exploring the island and resort. Just dunk it, wring it and wear it to stay cool while out in the sun! This company also makes cooling shirts and towels as well as misting gear. http://realxgear.com/product/realxgear-cooling-cap/
For more beach travel gear and accessory ideas, visit our resort Pinterest page: Caribbean Beach Travel Gear