Introducing RiAnn Sutton, Sands Concierge and Superstar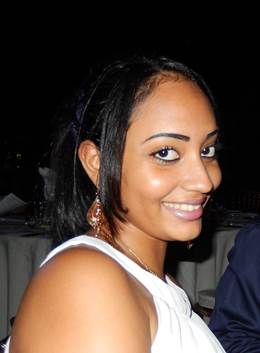 We were excited and proud to learn so many Sands employees were nominated to receive Star Awards in February.
So we are going to regularly profile members of the Sands family in order to provide guests with an inside look at what the "locals" love about our island in the Caribbean.
RiAnn Sutton is our first "superstar" this regular series.
RiAnn Sutton, Sands Concierge
As concierge and front desk clerk, RiAnn is an expert about things to do, see, and experience on the island of Provo. So make sure you ask her for some advice about what to do.
Where are you from originally? How many years have you lived in Provo?
Although I was born in Trinidad, I have lived in the Turks and Caicos for 18 years.
How do you like to spend your free time in Provo?
I love going to the beach and just relaxing.
Most days when I'm not working I try to do an excursion like parasailing or snorkeling. As concierge, it helps if I have first-hand experience with the activities I am recommending!
What is one "must-do" or "must-see" attraction for tourists to experience in Provo?
The weekly Fish Fry *the* must-do for visitors and residents alike on Provo.
The Fish Fry is held every Thursday at the Bight Park, about 10 minutes by car from the Sands hotel. The event gives visitors a chance to experience our island culture whether it be the great food, the music, or the interesting performances by local artists. The Bight Park, with swings, a slide and places to climb, is perfect for kids.
Besides crab 'n rice, lobster mac 'n cheese and fish from local water, conch salad and conch fritters are sold here as well. It's delicious and is a great way to meet the Provo locals.
Are there any favorite places you can recommend for families?
I always recommend the Coral Gardens snorkeling spot for our visitors travelling with children. Not a lot of families get to do the boat trip, so I think going out to the reef would be a fantastic and memorable experience.
You don't have be a strong swimmer to see the beautiful reef fish at Coral Gardens. It's a perfect family outing, and it's right on Grace Bay Beach.
The waters are very calm thanks to a barrier reef located about a mile offshore. There is a smaller reef you can wade out to (it's only a couple of steps) from the shoreline. If you have a mask and if you're lucky you may see needlefish, different kinds of snapper, sergeant majors, jacks, schools of angel fish and more!
Remember to bring surf shoes, a mask and snorkel, and also remember that children should be watched at all times.
What kind of local Turks & Caicos food or drinks would you recommend that Provo visitors try?
Everyone who comes to TCI has to try conch at least once. Conch of course is a large shellfish with a beautiful shell that is native to the Turks and Caicos forms a big part of local cuisine.
Our conch salad and conch fritters here on Provo are the best in the Caribbean. Various travel writers have even remarked how good the conch fritters are at Hemingway's, our very own beachfront restaurant.
Are there any other island restaurants that you like?
Besides are very own Hemingway's on the beach, my favorite casual restaurant is Mango Reef. It's very popular with visitors to our island. The Mango Reef is located just down the beach (about two minutes' walk) from the Sands, towards Coral Gardens – it's a beachfront restaurant with casual, open-air dining.
The Mango Reef offers "fusion" cuisine with a lot of Asian and French influences… and a lot of fresh local fish. Their chef comes from Brittany, and the staff are very multicultural, so there is always something new, exciting and sophisticated to try on the menu. I like the seafood salad myself!