Every year from January through the beginning of April thousands of North Atlantic humpback whales migrate through the Turks Head passage that separates South Caicos and Grand Turk, towards the Dominican Republic for birthing. During this time of year, the whales can be seen and heard all over the Turks & Caicos Islands and can even be spotted right off of Grace Bay Beach beyond our reef. Whale watching tours are now offered from Grand Turks and Salt Cay and are popular excursions taken by many tourists visiting our Islands each year. For information on the various whale watching tours and excursions offered in Turks & Caicos, you visit the following website: http://turksandcaicostourism.com/salt-cay-turks-and-caicos/salt-cay-tours-activities/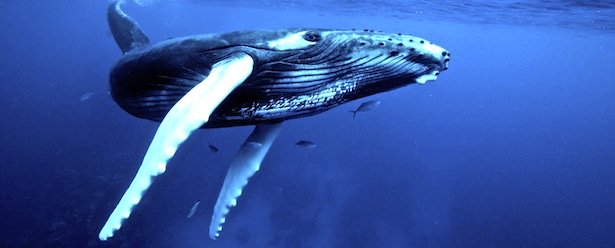 Tourists play a big role in helping to protect our Turks & Caicos whale population, as they often seek to experience these magnificent creatures during their Turks & Caicos trips. To ensure our Humpback Whales continue to return to our Turks & Caicos Islands, here are some points to consider from the Turks & Caicos Department of Environment & Maritime Affairs that can help keep these whales safe on their journey through our waters:
During the Turks & Caicos whale migration season, boats and vessels should approach slowly, carefully and quietly (keeping engine noise to a minimum). Maintaining a respectful distance ensures that the will not be stressed or feel threatened.
Avoid "fencing in" the whales by blocking them between boats, too close to shore/shallow water, cutting off their direction of travel, or chasing after them.
If whales change their direction 3-5 times, it means they are feeling hassled and stressed. Simply maintain your distance and allow their space. Disturbed whales will swim away and your viewing could be unfortunately cut short.
When operating a vessel, move parallel to the whales to avoid approaching them head-on, as this may give the whales the impression that they are being chased. Surprised whales may show aggression and become very dangerous given their size.
Mothers and calves are tired and are more likely to be "spooked." They need extra consideration of the above.
Remember: whales are much bigger than people and most whale watching vessels. Safety is always a priority, for both the whales and the viewers. Approaching them with caution ensures the whales stay happy and you will get the most out of your experience.