The Beautiful Beaches of Providenciales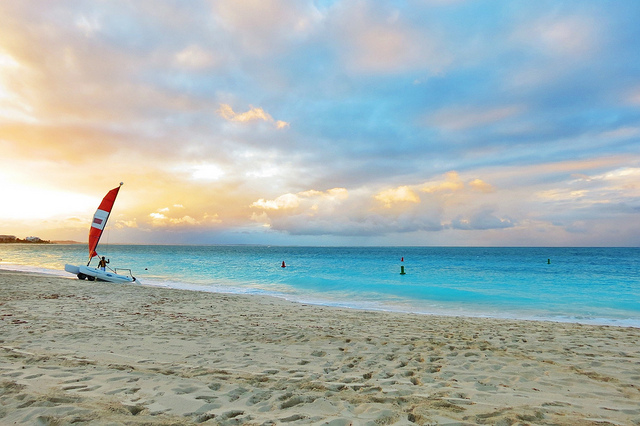 In February 2015 Grace Bay Beach was once again recognized as the best beach in the Caribbean by TripAdvisor and as the #2 beach in the world. The combination of clear water, turquoise and emerald hues, and powdery sand captures the heart of anyone who visits our island.
While Grace Bay Beach may be the jewel in the Turks and Caicos crown, many other spectacular beaches await you here on the island of Providenciales.
To get you started we have created this brief guide to the beaches of Turks and Caicos.
About Providenciales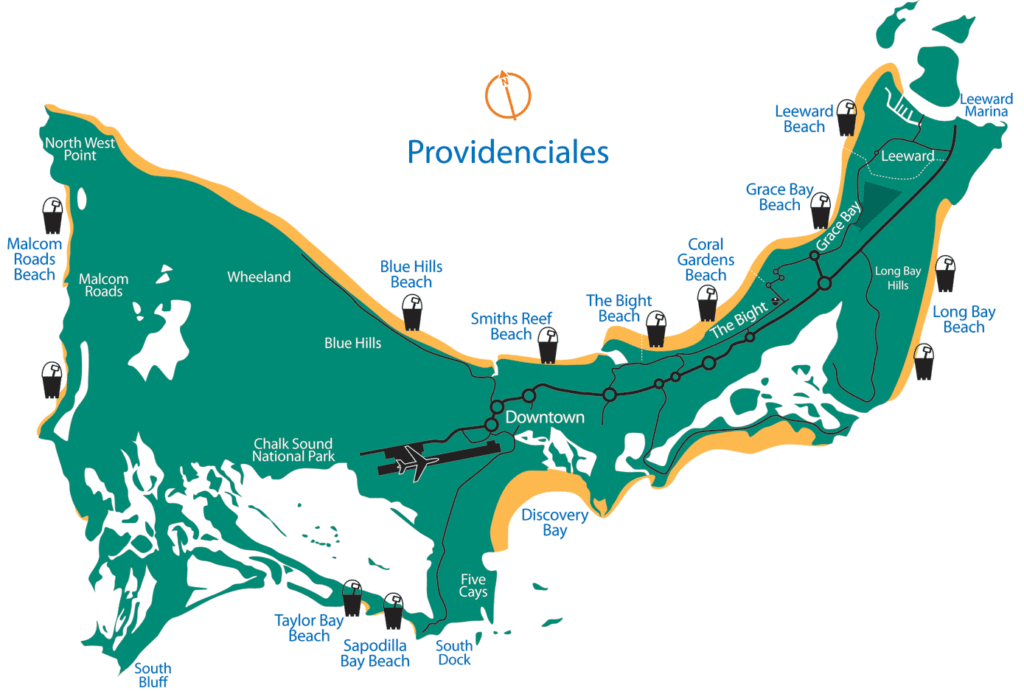 Providenciales lies at the western end of a chain of islands in the Atlantic Ocean, just east of the Bahamas and about an hour by plane from Miami.
The Turks and Caicos Islands themselves are the tips of banks (basically coral atolls) that rise nearly 3000 meters above the ocean floor.
The bank on which our islands sit is made from the remains of ancient corals and shelled creatures. The chalky limestone has gradually eroded over time to give us the beautiful powdery sand that has made Grace Bay Beach a favorite location for so many people around the world.
The Caicos Islands ring the north rim of this massive white bank of sand. To the north of our island of Providenciales lies deep water.
Miles and miles of shallow water stretch to the south of Providenciales until deep water begins once again.
The combination of white sand and shallow crystal-clear water creates the intense turquoise hues that have made our islands so famous.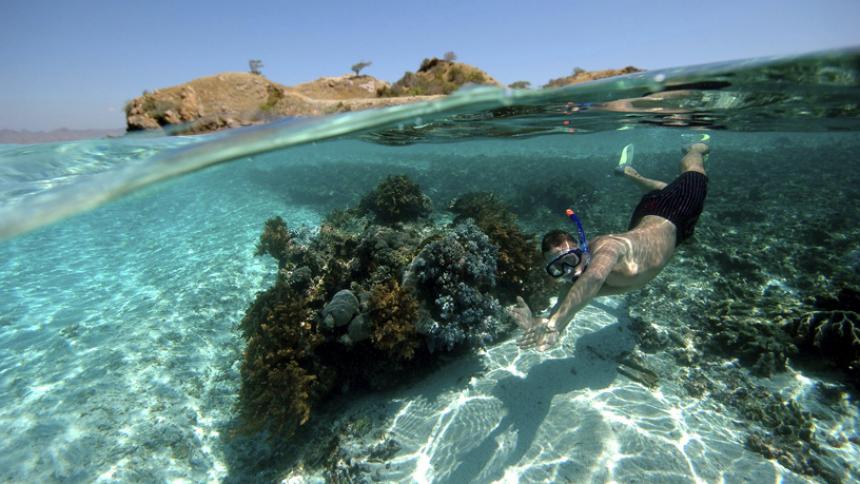 Our island of Providenciales is about 20 kilometers long from east to west and about one or two kilometers wide. This makes Provo easy to explore.
Beach characteristics around the island vary from place to place. The beaches on the Leeward, northeast end of Providenciales tend to be wide with deeper clean sandy ocean floors.
Grace Bay Beach is located on Provo's northeast coast. The gentle winds and calm surf have made this stretch of sand a paradise for beach lovers.
Learn more about the Turks and Caicos Islands here.
Leeward Side and Grace Bay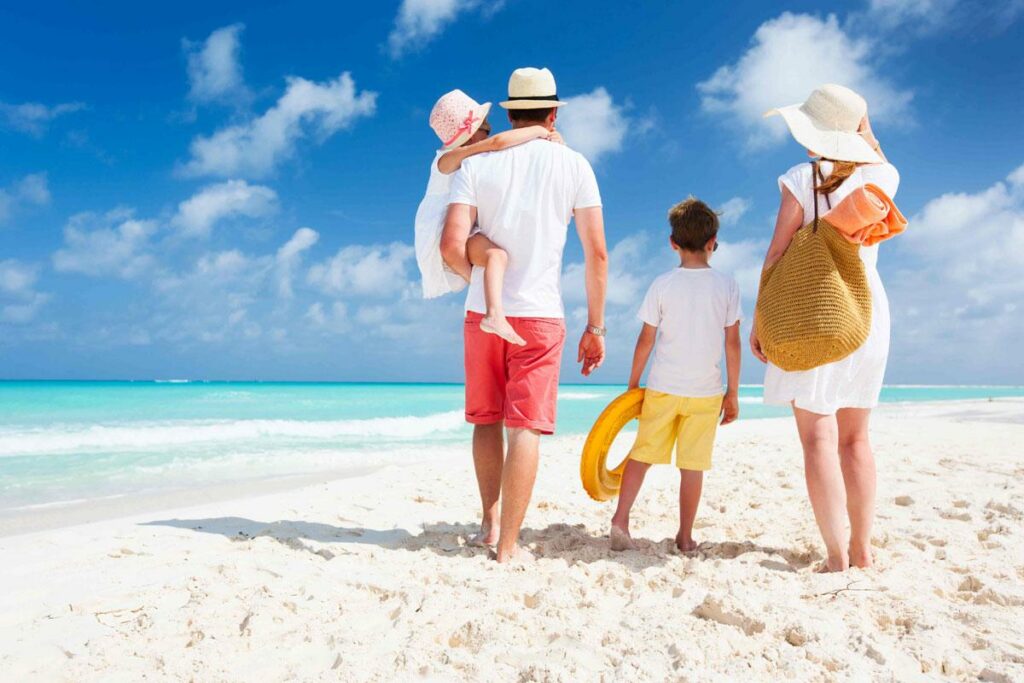 Grace Bay lies on the northeast Leeward coast of Providenciales. As the name implies, the Leeward side of the island is less exposed to the trade winds.
Grace Bay is the perfect beach for relaxing or playing in the surf. The Sands at Grace Bay is located directly on Grace Bay Beach, which makes it popular if you have young children or just want to spend your time relaxing.
In fact, the location of The Sands at Grace Bay was carefully selected by its development company The Hartling Group – who pioneered the luxury resort development activity on Providenciales some two decades ago –  for its premier location on Grace Bay Beach.
Snorkeling Grace Bay's Coral Gardens
Coral Gardens are quite close by to Grace Bay and lie about 15 minutes by foot down the beach to the east. The great thing about Coral Gardens is that anyone can wade out to the shallow reef to look at the beautiful fish.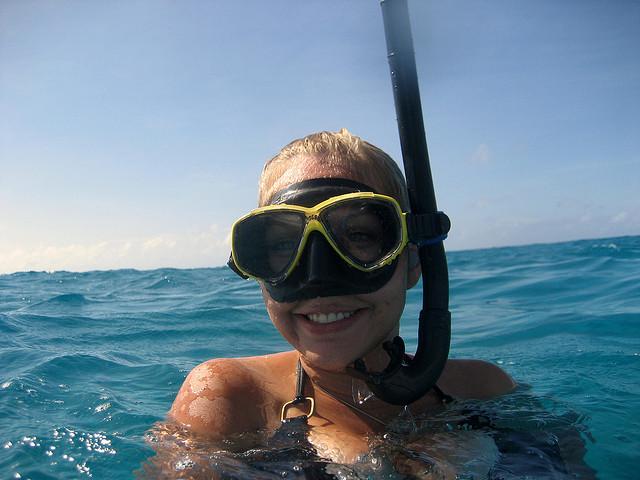 If you like snorkeling, our 4 hour daily Snorkel & Conch Cruise is a must-do excursion!
Bight Reef
Bight Reef lies yet further to the west of Coral Gardens. Unlike Grace Bay Beach, Bight Reef is very close to the heart of town and is very popular with visitors to Providenciales. Therefore this area can get quite crowded.
Smith's Reef
There are three accesses here: one large parking lot, two smaller parking areas and three types of reef formations. Some reefs are close to beach, and some are farther out for more experienced swimmers.
Explore Leeward Beach Mangroves by SUP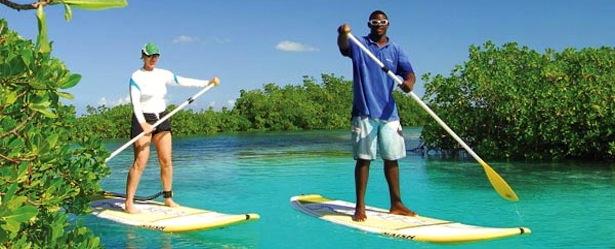 Back at Grace Bay Beach and the Leeward end of the island, other activities include kayaking, stand up paddling (SUP) and sometimes even surfing.
Leeward Beach, at the extreme eastern tip of Providenciales, is home to a unique mangrove ecosystem.
The calm water is perfect for SUP and kayaking trips. We think Stand Up Paddling is a perfect way to explore this incredible nature preserve.
It's always best to go on this excursion with a guide. Contact our Tour Operator Desk for more information about touring the mangroves near Leeward Beach.
Blue Hills Beach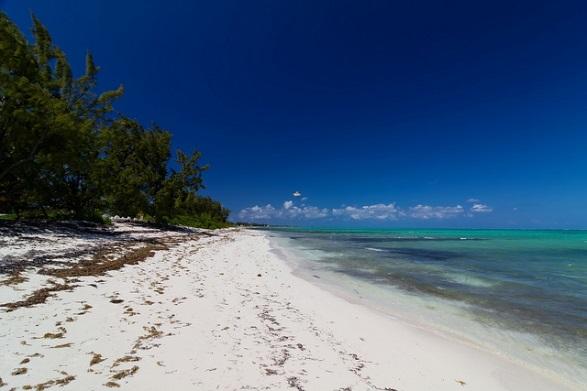 Blue Hills Beach is located at one of the three original settlements on Providenciales. The main attraction of the area is scenic Blue Hills Road, which follows the ocean and provides memorable views.
Blue Hills Beach can be a quiet place to spend an afternoon but take note as it can be difficult to find parking or beach access. The beach can get rocky close to shore and there can be large amounts of seaweed.
The main draw? Several popular restaurants are located on this beach, including the world-famous Conch Shack.
Please ask our concierge before making a trip to Blue Hills Beach.
The Windward Side of Provo: Long Bay Beach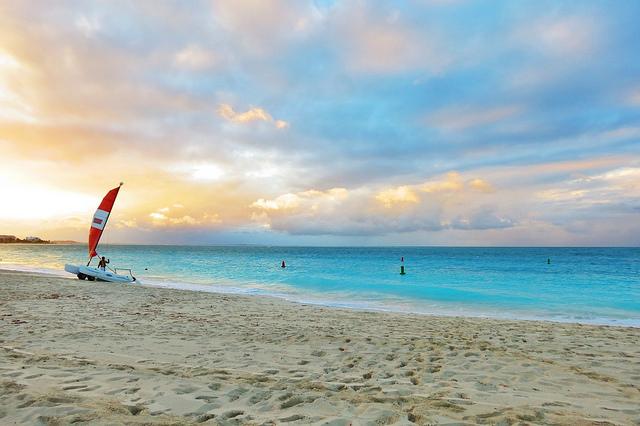 Like all islands in the Caribbean, the Turks and Caicos enjoys westerly trade winds. These steady winds provide cooling relief on sultry nights.
The strong, predictable winds also spell delight for surfers. As well, to take advantage of the wonderful wind on Long Bay Beach the Sands offers kiteboarding lessons.
Long Bay Beach
Long Bay Beach stretches along the northwest coast of Providenciales.
This stretch of coastline possesses the same beautiful sand and views of exquisite turquoise waters as other beaches on the island. However, there are few resorts on this side of the island.
Visitors generally have this beach to themselves.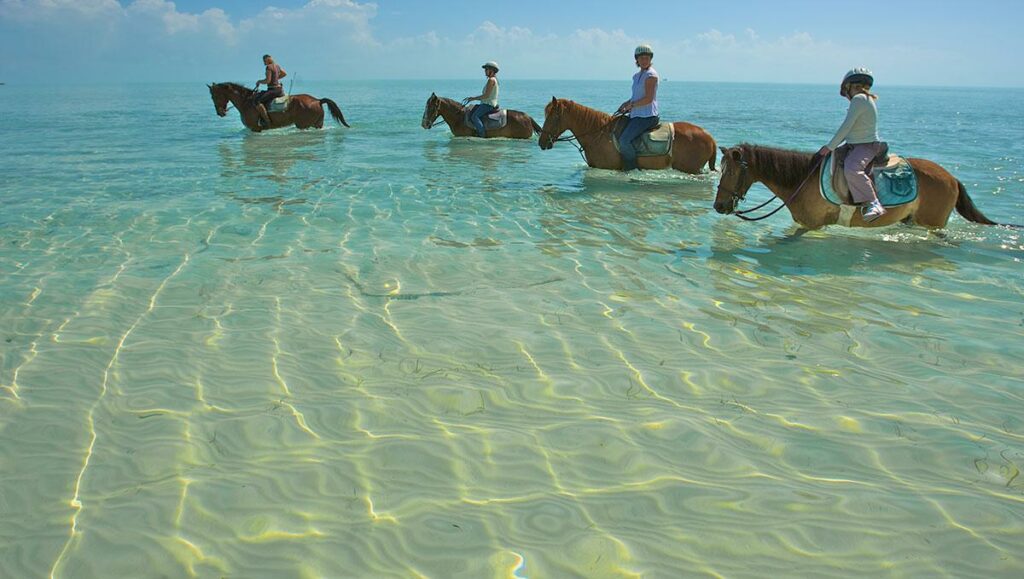 Since Long Bay Beach is exposed to steady trade winds, the beach is a favourite destination for kiteboarders.
The quiet beach is also the destination for pony tours. It's quite an experience to wade in the shallows with a group of gentle ponies.
For more information on kiteboarding lessons, tours, packages or equipment rentals offered in Providenciales, visit our Tour Operator Desk.
Provo's Wild West Coast
Malcolm's Beach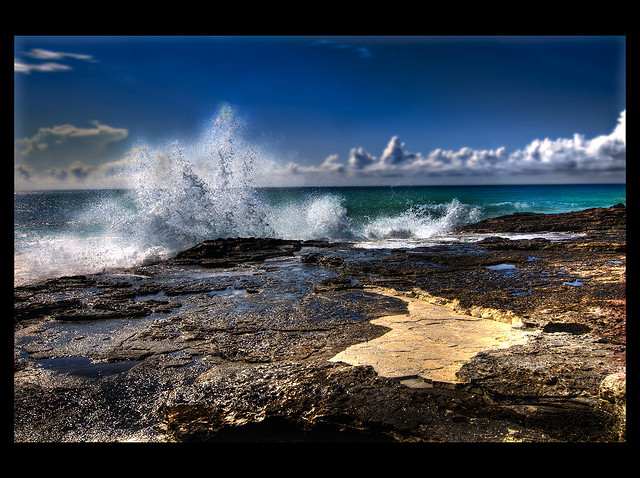 This stunning beach is hidden on the west coast of Providenciales.
Deep water lies just off the rocky shore of Malcolm's Beach. This results in booming, spectacular waves that crash on shore.
These same strong waves should be treated with caution. The excellent near-shore scuba diving at Malcolm's Beach should only be attempted with a guide.
This beach is also isolated and you'll need a high-clearance vehicle to reach it.
Malcolm's Beach does not have any facilities or food service so it's recommended that you pack your own food and drinks. The remoteness of the location can also make it risky to leave valuables in your car.
Before traveling to Malcolm's Beach be sure to contact our concierge for advice.
Beaches in the Five Cays
Sapodilla Bay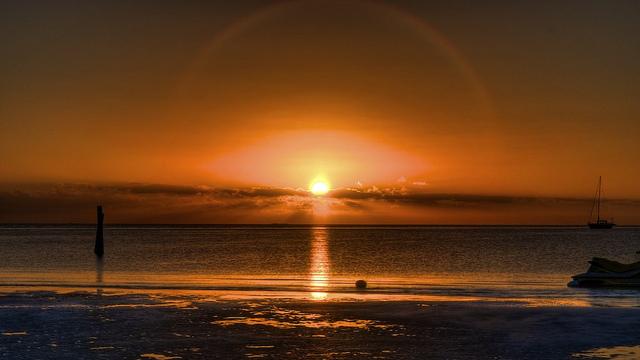 Located south of Chalk Sound, this secluded and protected beach is a favorite island spot for walking. Visitors especially like going to Sapodilla Bay during low tide when tiny sandbar islands form just offshore.
Be sure to check out the Sapodilla Bay Hill rock carvings. Dating back to the 1700s, these interesting engravings and scribbles were left by the early settlers, salt traders and government representatives of the islands.
When you are in Providenciales International Airport you will note some of the replicas and castings of these carvings are displayed in the terminal building.
Taylor Bay
In the vicinity is tranquil Taylor Bay, a perfect place to take a young family for a swim.  The bay is so shallow that boat traffic is restricted leaving nothing but quiet.
Also remember to stick around until evening if you can – the sunsets here can be fantastic!
From Leeward Marina
Half Moon Bay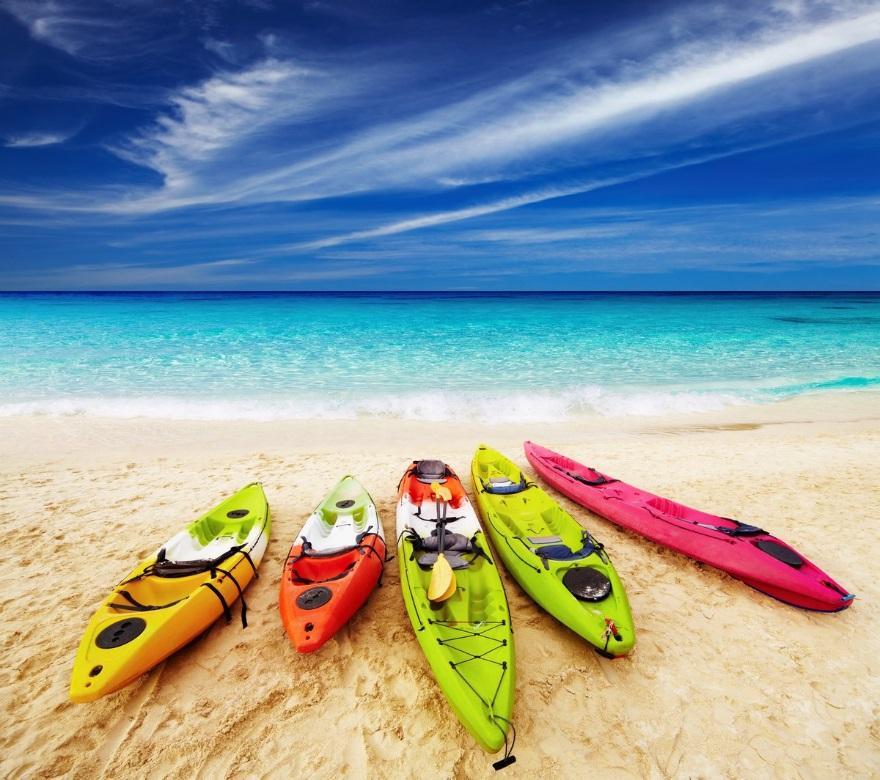 Half Moon Bay is a pristine stretch of sand between uninhabited Little Water Cay and Water Cay. These cays are located just east of the Leeward end of Providenciales.
The beach here is only accessible by boat, boasts two uninhabited cays, and is one of the most spectacular stretches of sand in Turks & Caicos.
It's a great beach for exploring the sandy coves and limestone cliffs, or snorkeling the small shipwreck located just offshore.
Companies like Caicos Dream Tours offer beach drop-offs and excursions to Half Moon Bay.
It is also possible to go kayaking or paddle boarding from the Leeward area of northeastern Providenciales.
If you choose to paddle over, remember that the typical east-southeast winds may make the return trip back to Providenciales a bit more work.
The Sands offers a Dream Day Getaway that explores the waters off the Leeward side of Providenciales.
Day Trips to Middle Caicos
Mudjin Bay (Harbor)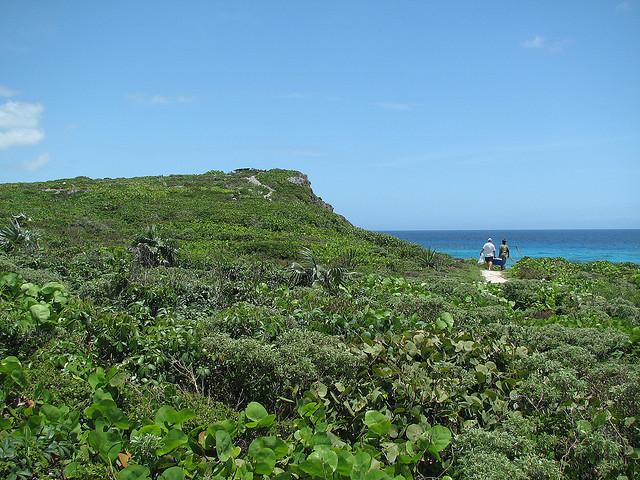 Middle Caicos, to the east of Providenciales, has the fewest residents of any island in the Turks and Caicos. Lined with walking trails, this large cay is perfect for exploring.
A highlight of the island are the Conch Bar Caves near Bambarra. Mudjin Bay is also a beautiful and exotic location to spend an afternoon.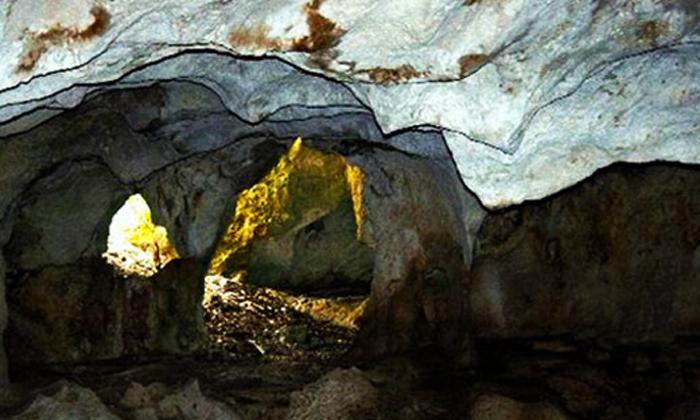 Many visitors come to Middle Caicos as part of a tour or excursion. Sailboats will take you to the best snorkeling spots and will then drop you off on a private beach for a picnic lunch.
Dragon Cay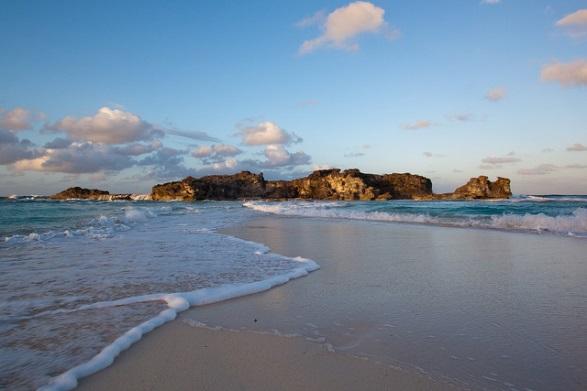 Just off of Mudjin Bay on Middle Caicos lies Dragon Cay. This small cay becomes connected to Middle Caicos at low tide, making it great for exploring and beachcombing.
Learn more about tours to the Conch Bar Caves on Middle Caicos here.
Useful Links for Planning Your Trip
Interested in exploring more of the beaches of Providenciales and the surrounding cays? Here are some resources to help you out. And, as always, remember that the Sands concierge is always happy to help as well.