Our Turks & Caicos luxury resort featured in leading Aus newspaper!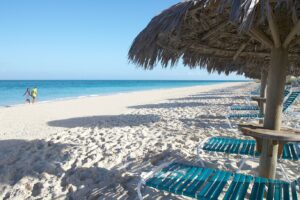 The Australian, a leading newspaper in that country with several million subscribers, has more than a few nice things to say about The Sands at Grace Bay and Grace Bay Beach itself.
In its article Word's out about the world's best beach, the Australian newspaper explains that  Grace Bay beach has been ranked by Trip Advisor as the #1 beach destination in the world.
Award winners were determined based on the most highly rated beach destinations by travelers in TripAdvisor reviews. Unlike any other awards or rankings, TripAdvisor Travelers' Choice winners are based on millions of reviews from travelers around the world, and TripAdvisor manages a variety of websites that make up the largest travel community in the world, with, according to the company, more than 50 million unique monthly visitors, and over 60 million reviews.
The Australian article actually features an interview with staff at the Sands at Grace Bay, who notes that the Turks and Caicos are still off the radar for many people – although  the islands are slowly growing in popularity.
The article mentions snorkeling just offshore on Grace Bay beach, as well as, for the more adventurous, scuba expeditions to the "Wall" offshore, the barrier reef that protects the islands and is home to more and bigger species of marine life, including whales, dolphins and sting rays.
Sunsets seem to be a favorite of the writer who visited us here in TCI:
The sheer beauty of the place is what makes it so special, especially at sunset. Time to sit under a coconut palm and order cocktails, as a red sun sets over the water.

As Caribbean torches and kerosene lanterns are lit at restaurant tables along the beach, all you can hear is the sound of the waves.

"People often compare us to other Caribbean places, but I always say the beach here is so much better," says an employee at the Sand at Grace Bay.
We couldn't agree more.