'– by Mona Beeson, General Manager of The Sands at Grace Bay
A continuation of the Adventures of "Hartling Girls Empowered" ~ the exploration and sights of the Turks and Caicos Islands with GM, Mona Beeson and my special young teen friend from last year.
This year as with previous years, I had the wonderful opportunity to join in mentoring girls from the island at the Edward C. Gartland Youth Centre Summer Camp Program that took place at The Palms Resort called "Hartling Girls Empowered" – and, as an extension, to share a trip to North and Middle Caicos with a couple of these amazing girls – sisters in fact – along with Karen Whitt, Vice President of Sales & Marketing for The Hartling Group.
As you may remember in my post about last year's trip, we are so enthusiastic about being able to share this experience that teaches these young ladies about their country's heritage, history, and destinations facts firsthand. So we set our plans to paper and plotted out our course to explore an ambitious 10 sites in North and Middle Caicos, rounding out our day at famous Bambarra Beach for a swim and picnic lunch.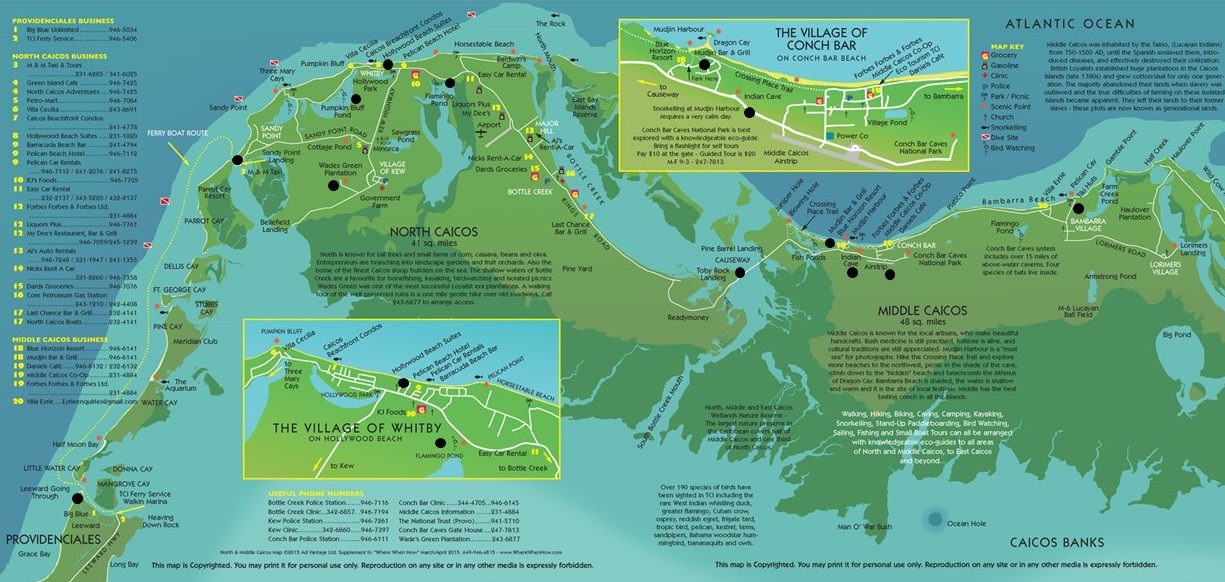 The car was packed with our cooler, picnic basket, beach bags (filled with towels, sun screens, and insect repellent – all a must) and, of course, a very necessary road trip snack bag! We were ready for our adventure with an early 7:30 AM pick-up for Karen and the two girls, soon we were on our way to Heavin' Down Rock in Leeward and Walkin Marina's Caribbean Cruisin fast ferry to North Caicos. Easy and convenient, all in one place we also arranged our North Caicos rental car there too with Caribbean Cruisin. Now, it was all about just sharing in a great experience!
On the fast ferry from Walkin Marina, we passed picturesque mangrove-clad inlets as our vessel splashed against the colorful turquoise waters, passing Little Water Cay, Half Moon Bay, Water Cay, Pine Cay, Fort George, Dellis Cay, and the famous private Island of Parrot Cay. All of these glorious islands and cays looked so inviting and beautiful from the water.
Once we arrived in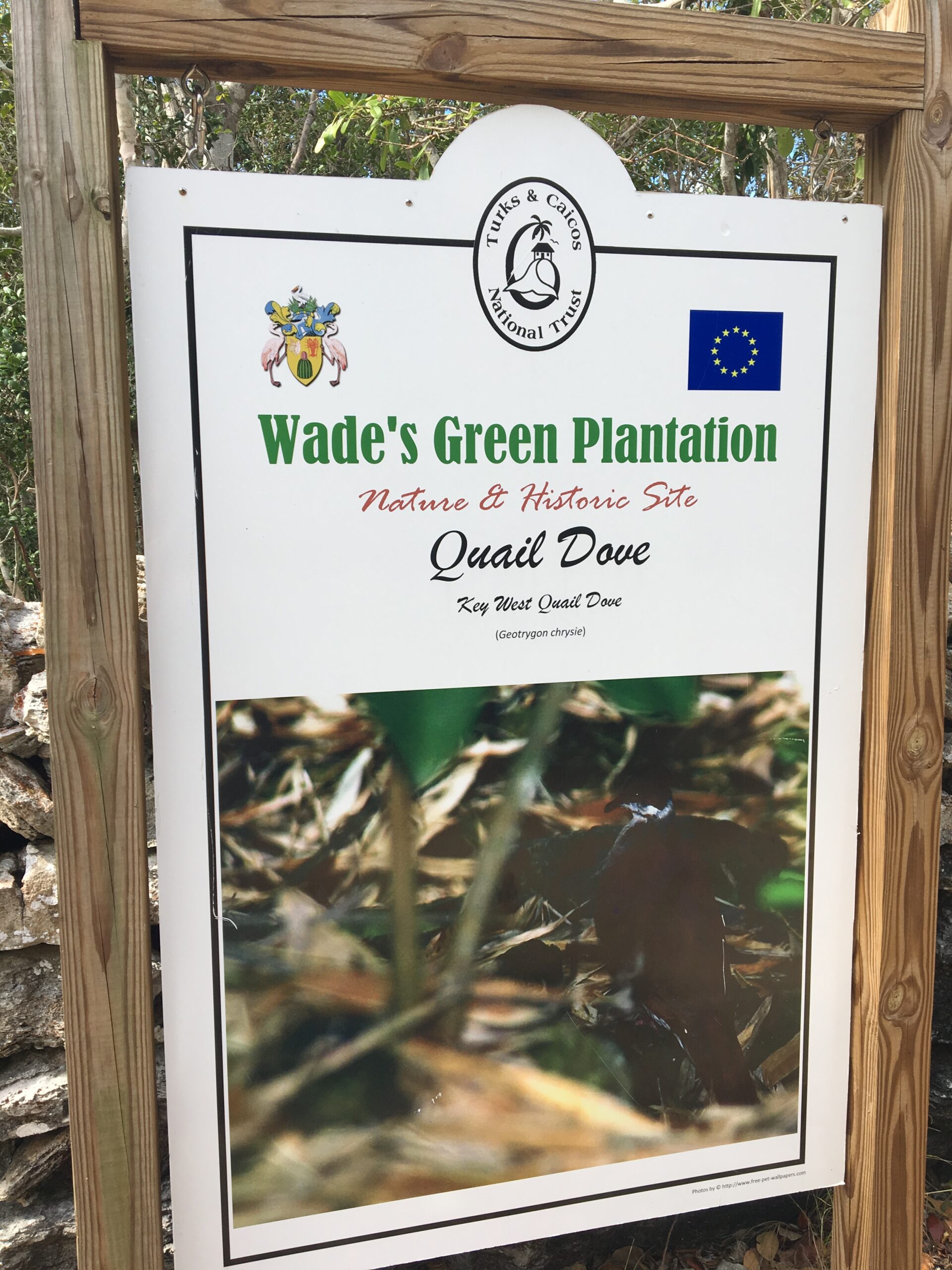 North Caicos, we loaded-up the rental SUV and s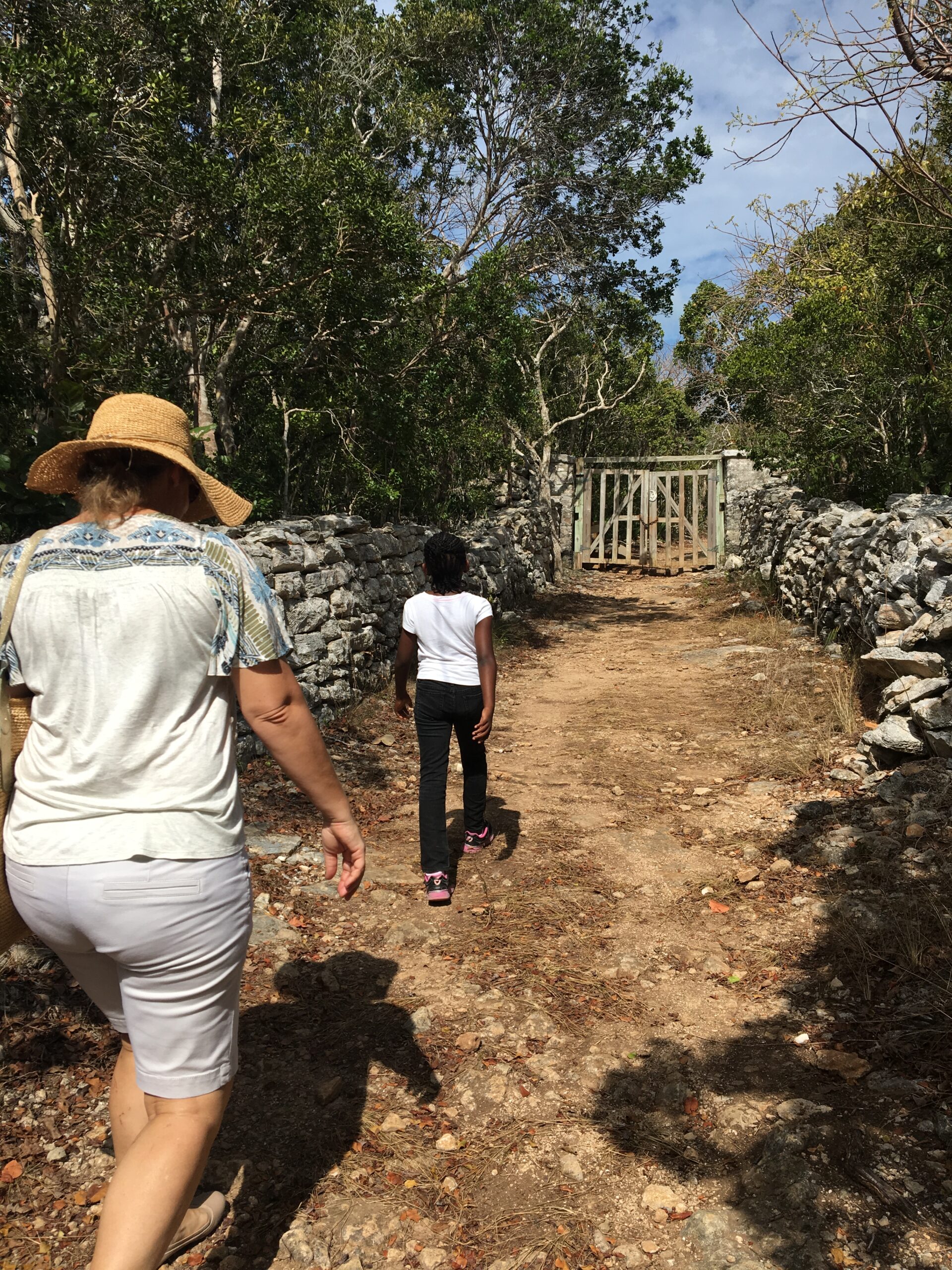 et out to the first stop on our map, Wade's Green Plantation.
While that day it was closed, we set out on a 3-mile hike around it to explore the nature paths and took a rest on the area's convenient benches. Quick tip for anyone looking to visit on a Sunday – you should call in advance to arrange a special tour. All-in-all the hike was delightful and insightful as we saw many indigenous plants and birds, and splendid scenery. Naturally we took photos of our adventure — a must for our memory books!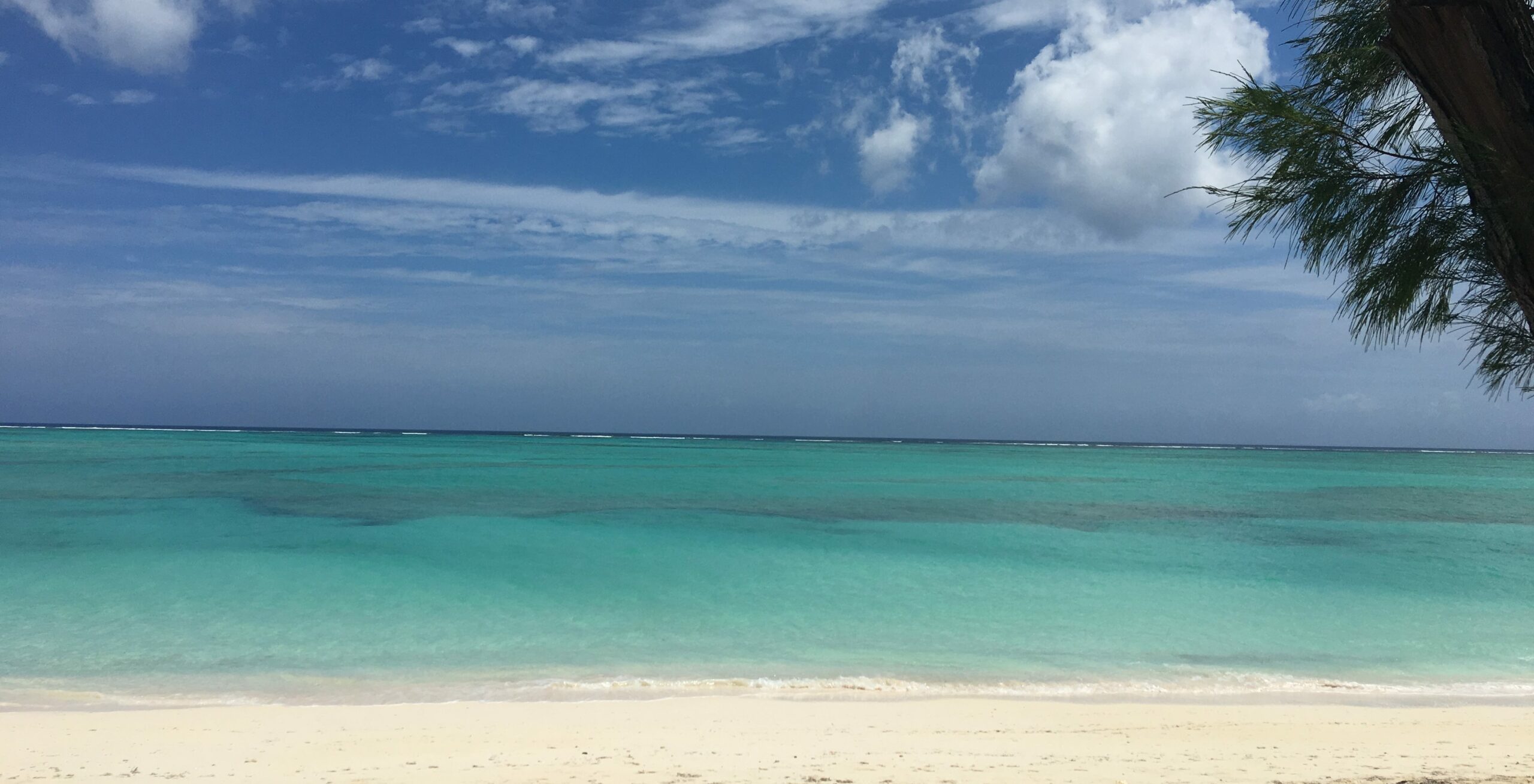 With our map out, we were on our way to Hollywood Beach via Pumpkin Bluff Pond. Having the SUV made for a fun off-the-road trek. Then we got back onto the main road to get to Hollywood Beach.
We met several potcakes once we arrived at Hollywood Beach, friendly dogs with wagging tails that headed right into the ocean for a dip. This beach and its four-legged visitors were fun to see. After a short walk, back on the road we went. We had to keep our schedule in order to end up at Bambarra Beach for lunch while also making it back in time for the last ferry to Provo…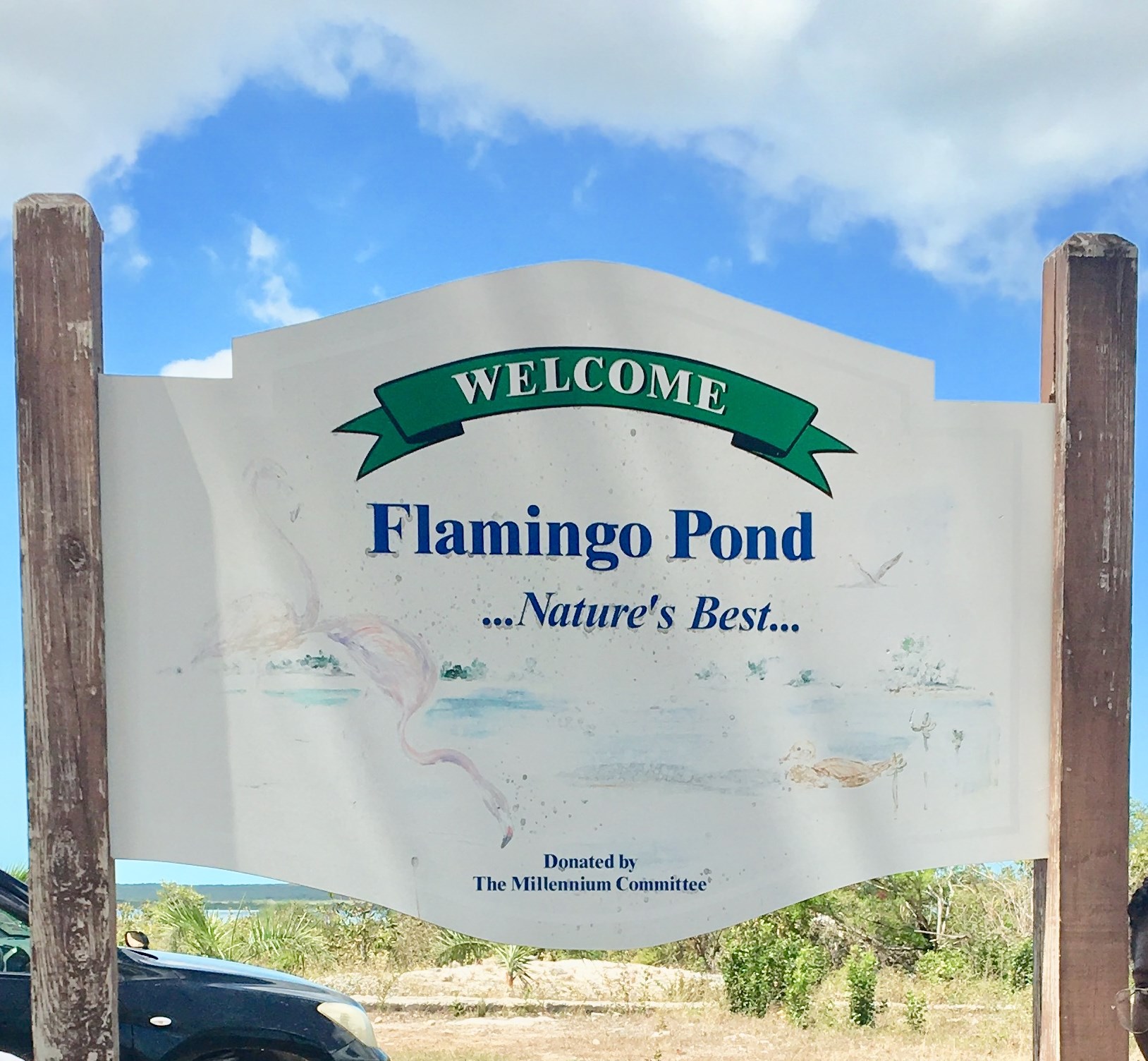 The next stop on our adventure was Flamingo Pond. Up on a small hill, we proceeded to the lookout stage – any Flamingos out there?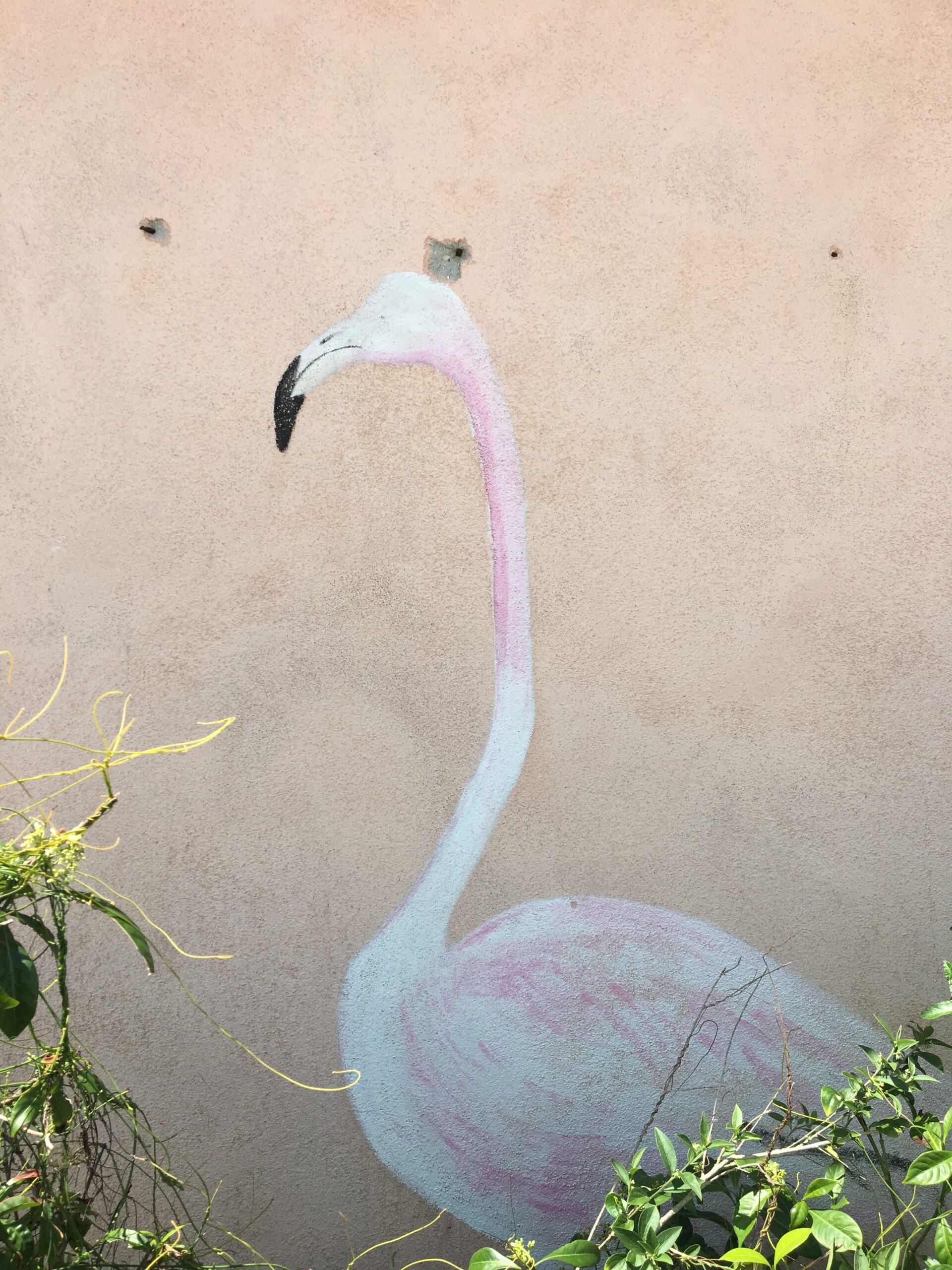 This time we saw them only painted on the wall, but that didn't stop us from taking some more selfies, and talking about the live pink flamingos we saw on the lookout stage during our last trip and in Grand Turk. Next it was time to hit the snack bag … and head on to the Causeway to Middle Caicos.
We passed through the little villages of Major Hill, and Bottle Creek on Kings Road enjoying the lush greenery and flowering trees. Once the Causeway came up, sparkling waters like glittering diamonds were all around. What a sight to behold, the colors of the water changed again. Simply amazing!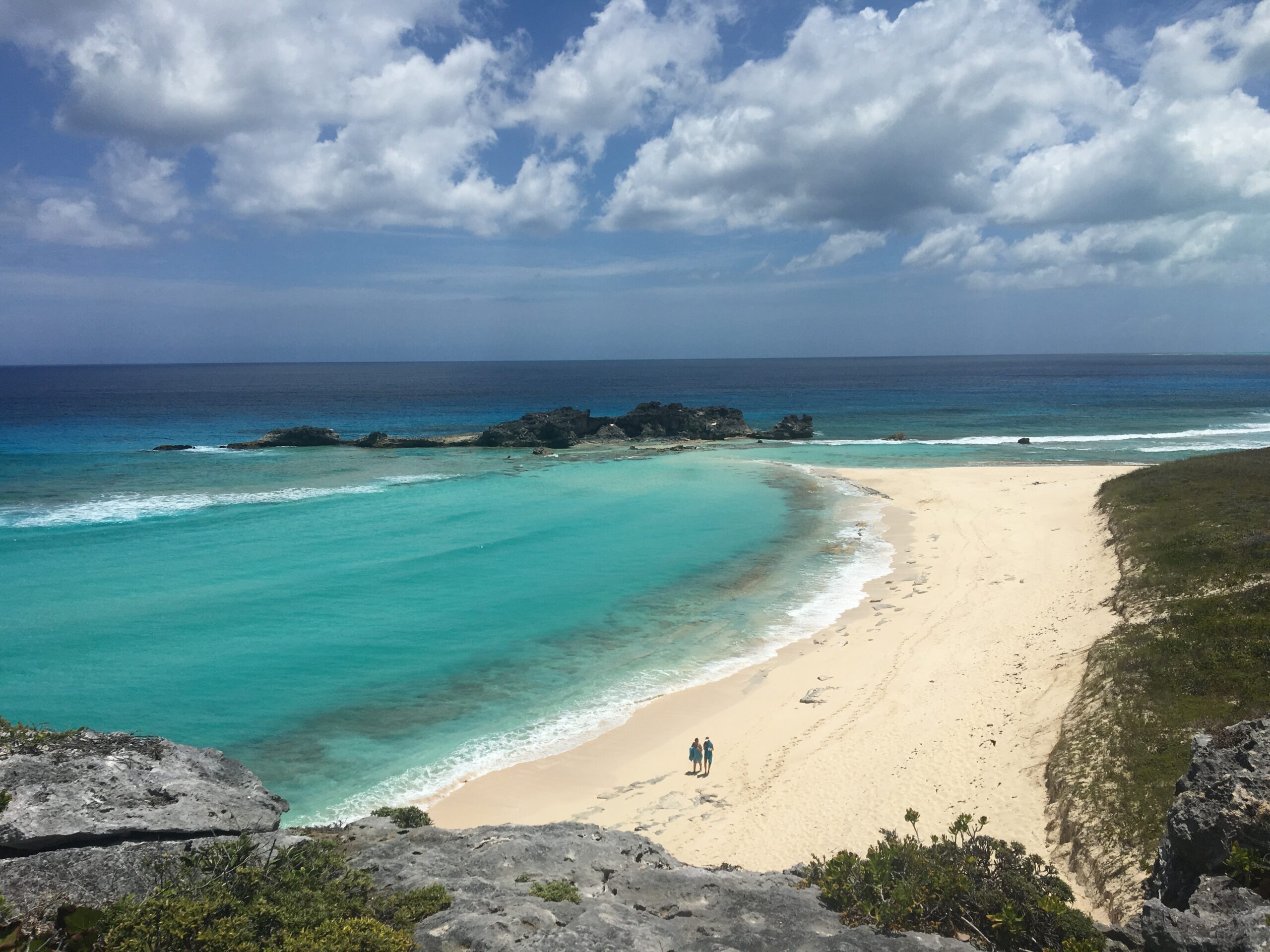 On Middle Caicos we turned left into the old Blue Horizon (now Dragon's Cay Resort) to Mudjin Harbour. If you have never been here, this spot needs to be on your "life's list" of places to see and experience. Imagine breathtaking bluffs overlooking the Atlantic Ocean with some of the most stunning azure waters – it's a definite must see!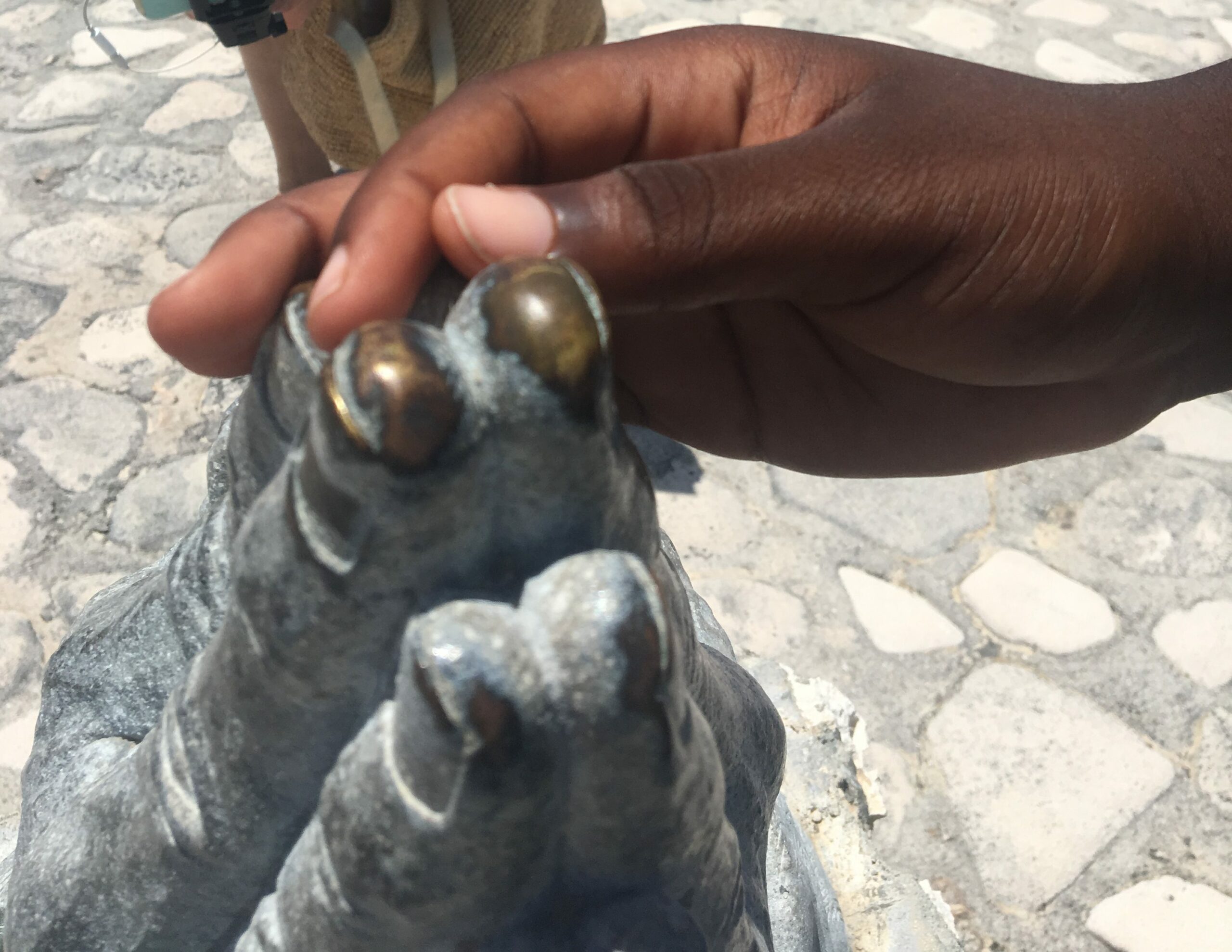 We took in the views of not only the amazing bluffs, but also the two caves that are sure to stir the explorer in you at any age. The first pathway leads to a large cliff cave overlooking the Harbour. Another path leads to the sculpted bronze "Circle of Hope" prayer hands, dedicated to Dale Marie Witt. Picture time? Yes again! The higher level view – again amazing – will take your breath away (from both the hike up and the view).
Continuing on the pathway, we approached and saw mysterious stairs leading down to an underground cave.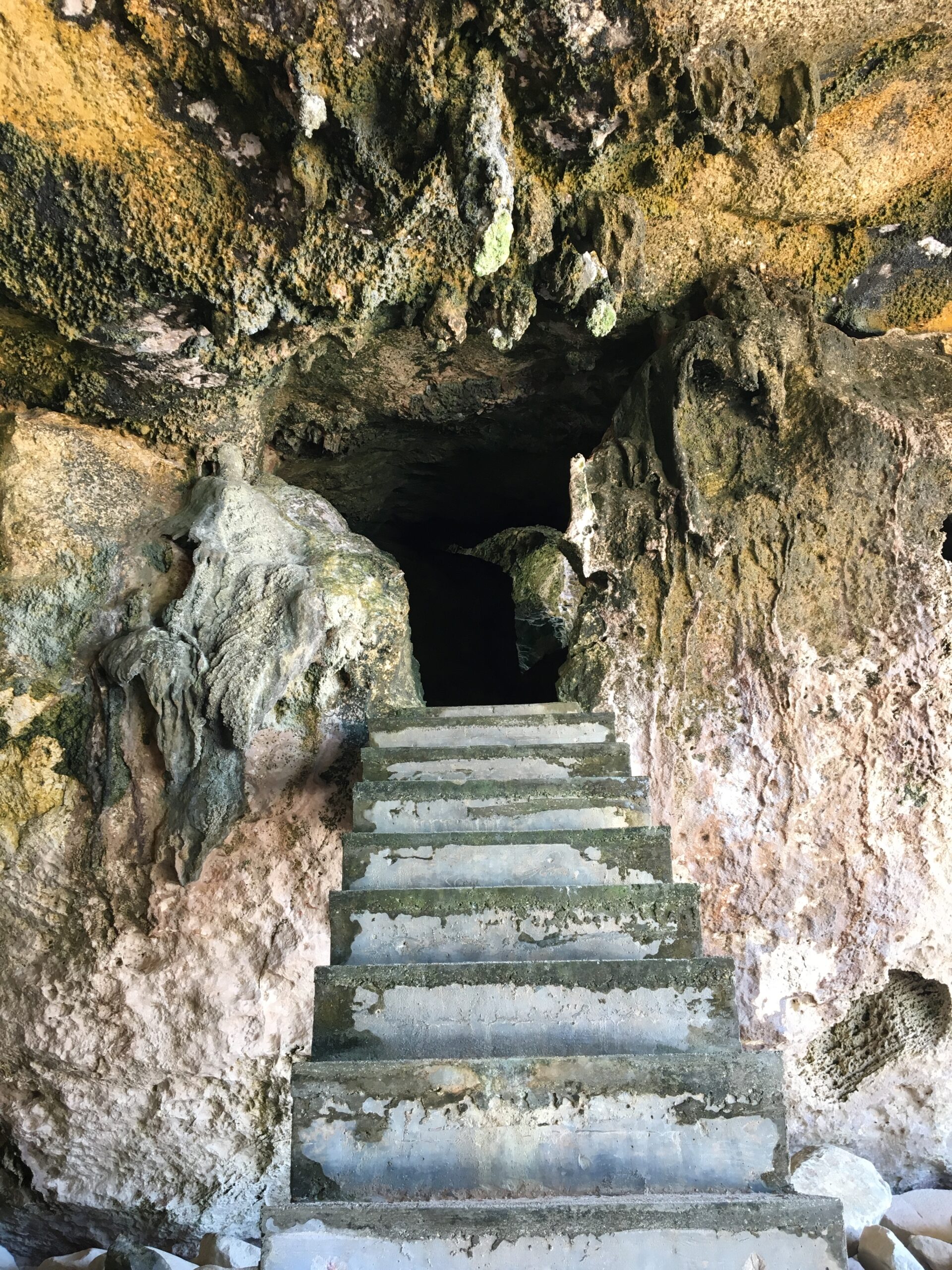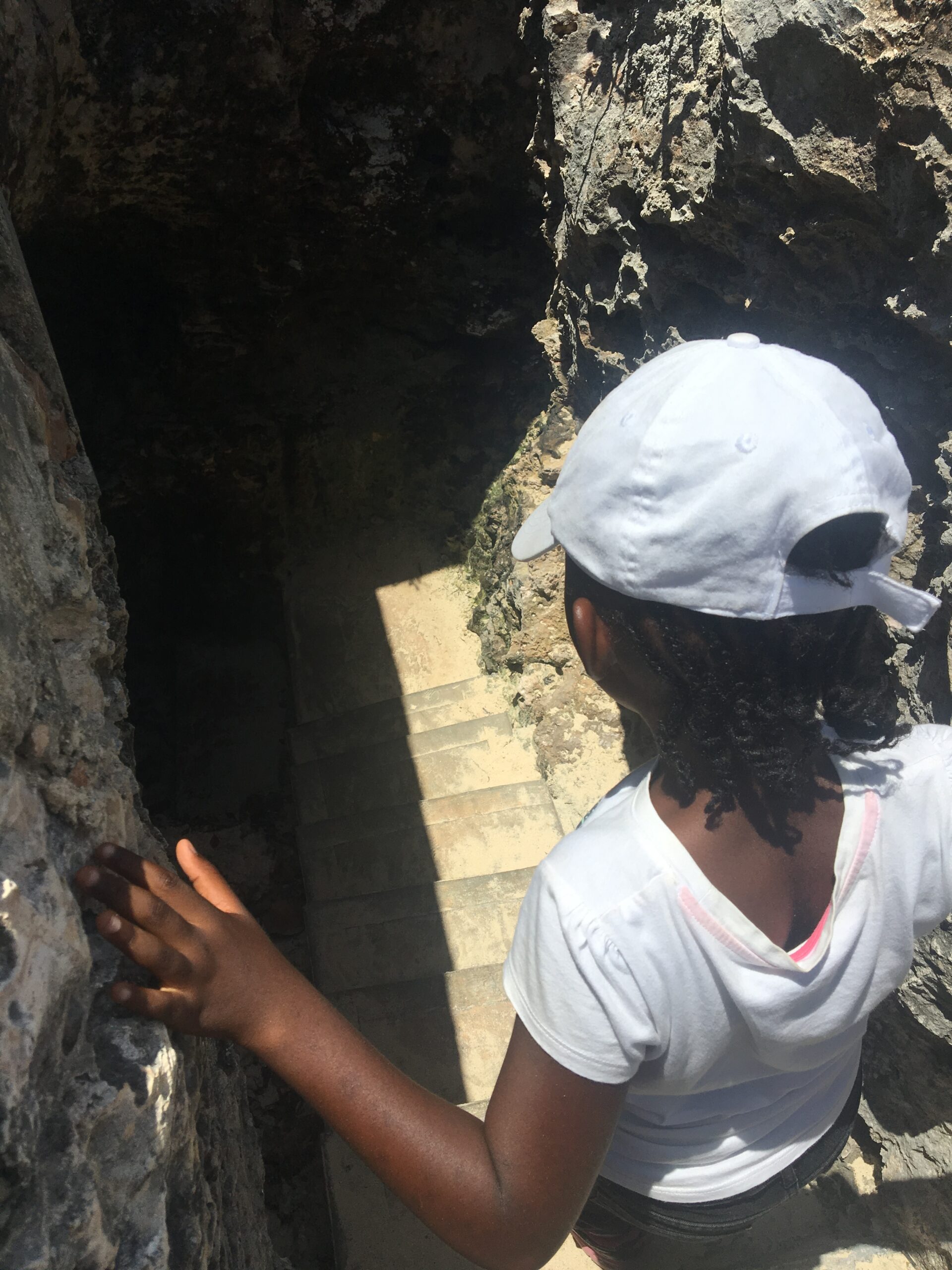 It's a place you are sure to think pirates must have hidden once upon a time. Maybe they did, maybe they didn't, but the cave walls won't tell…
This is a wondrous cave – though last year's storm took out some of the honed stalactite tips, it is still magnificent to see.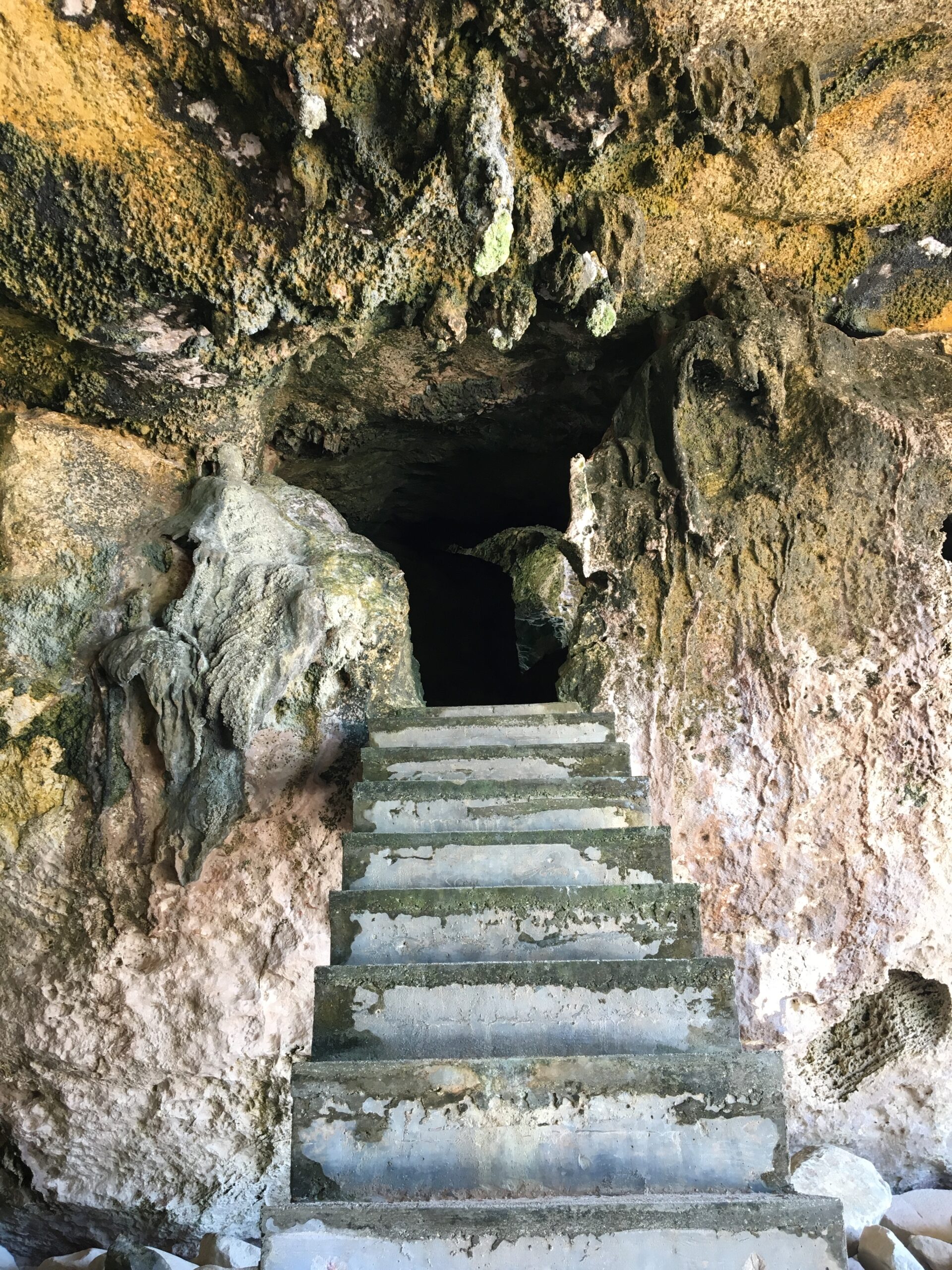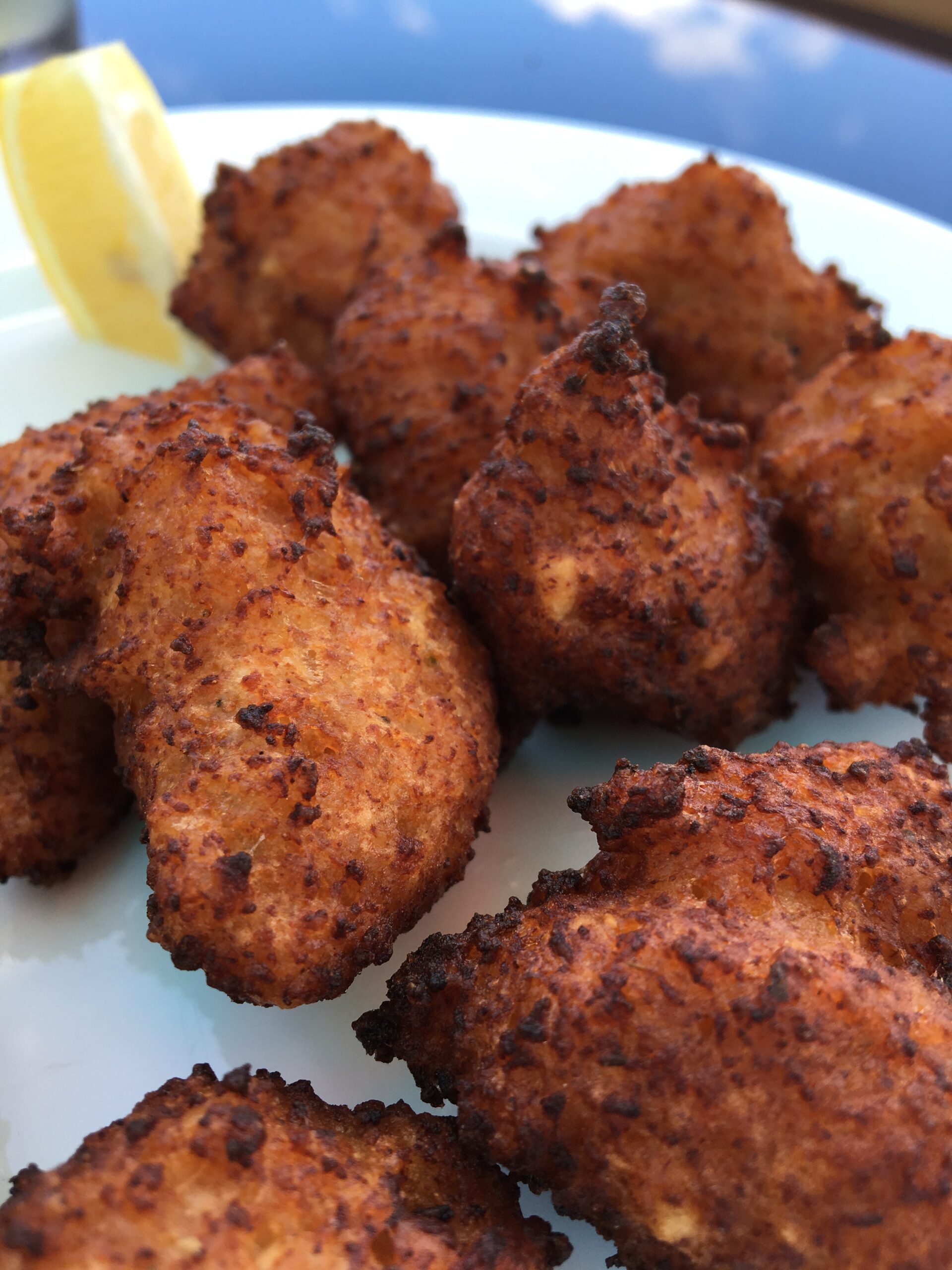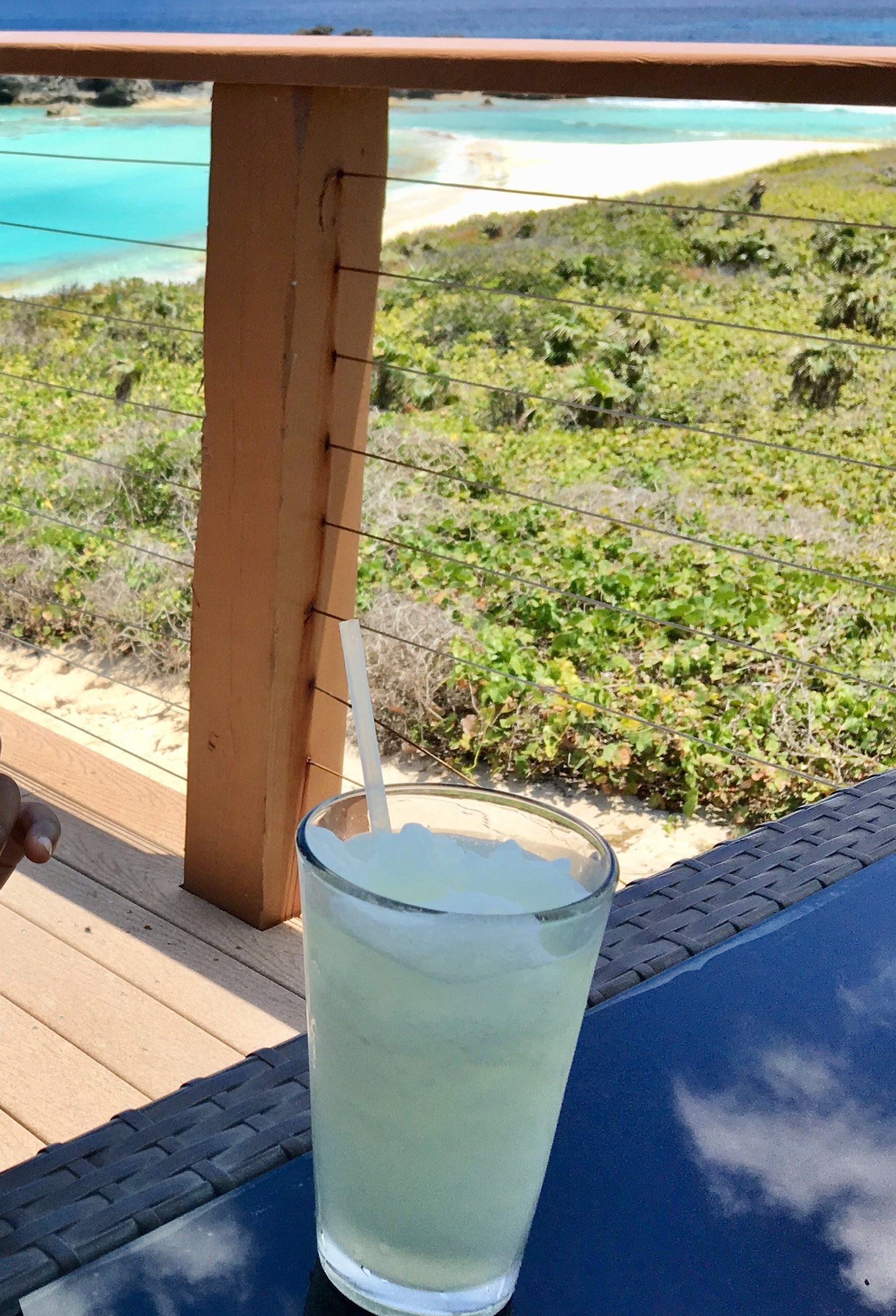 With its mesmerizing nature and beauty, it is certainly well worth the drive for peace, serenity… and for some delicious conch fritters at Dragon Cay's Bar & Grill. Oh, and they make a delicious frozen lemonade too…
A special request from Karen for the girls – definitely refreshing! The view from the top deck is spectacular. Friendly staff, good menu, and a killer view to boot.
Now that we had hour respite, we were on our way to the Indian Cave. It's been a while since it's been weeded, though we've seen the road workers making their way down.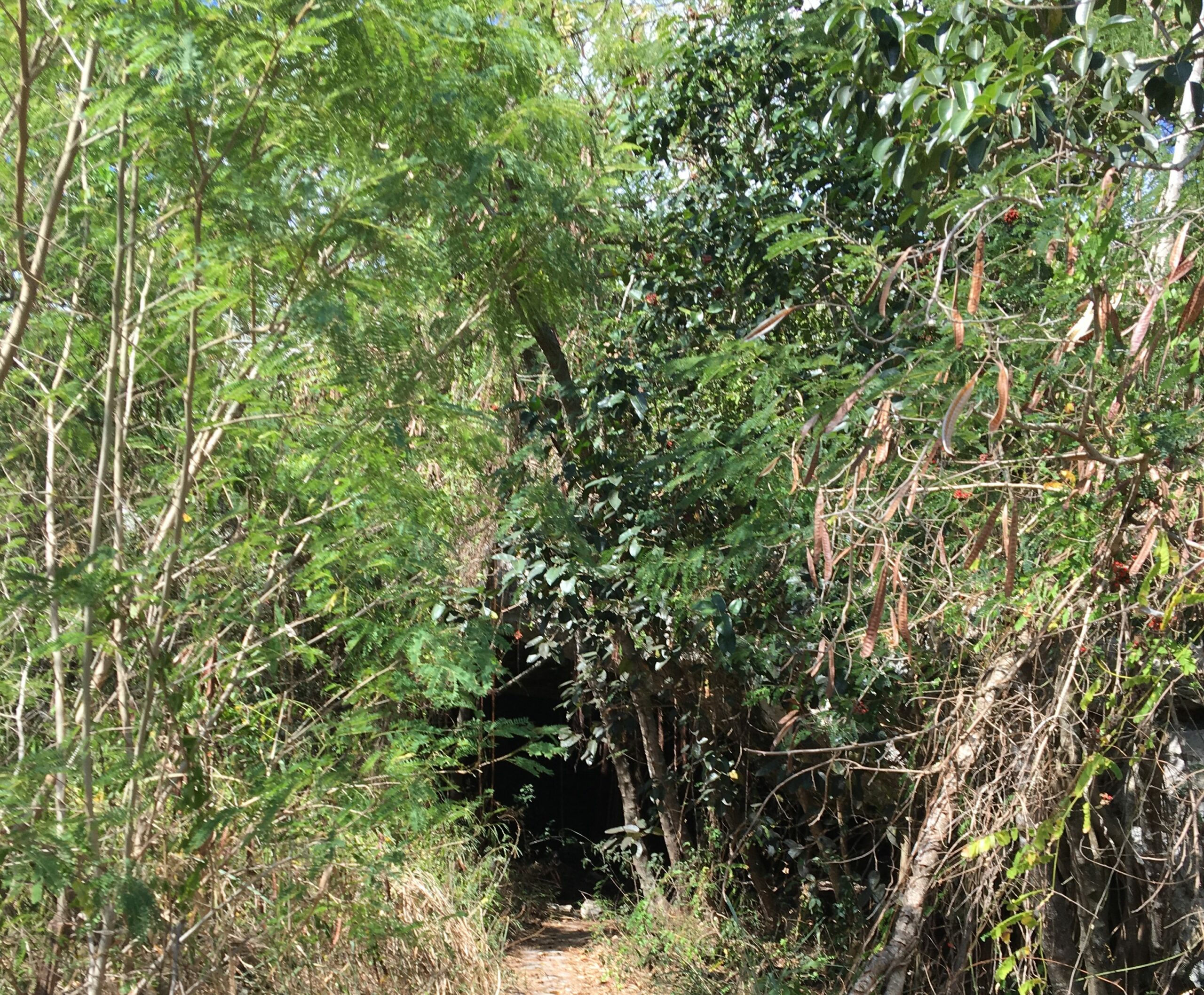 As it turns out, we drove right past the Indian Cave, so we've decided to head on to Bambarra Beach – and catch it on our way back. On the way over we stopped by the airstrip to take pictures and then quickly got back on our way.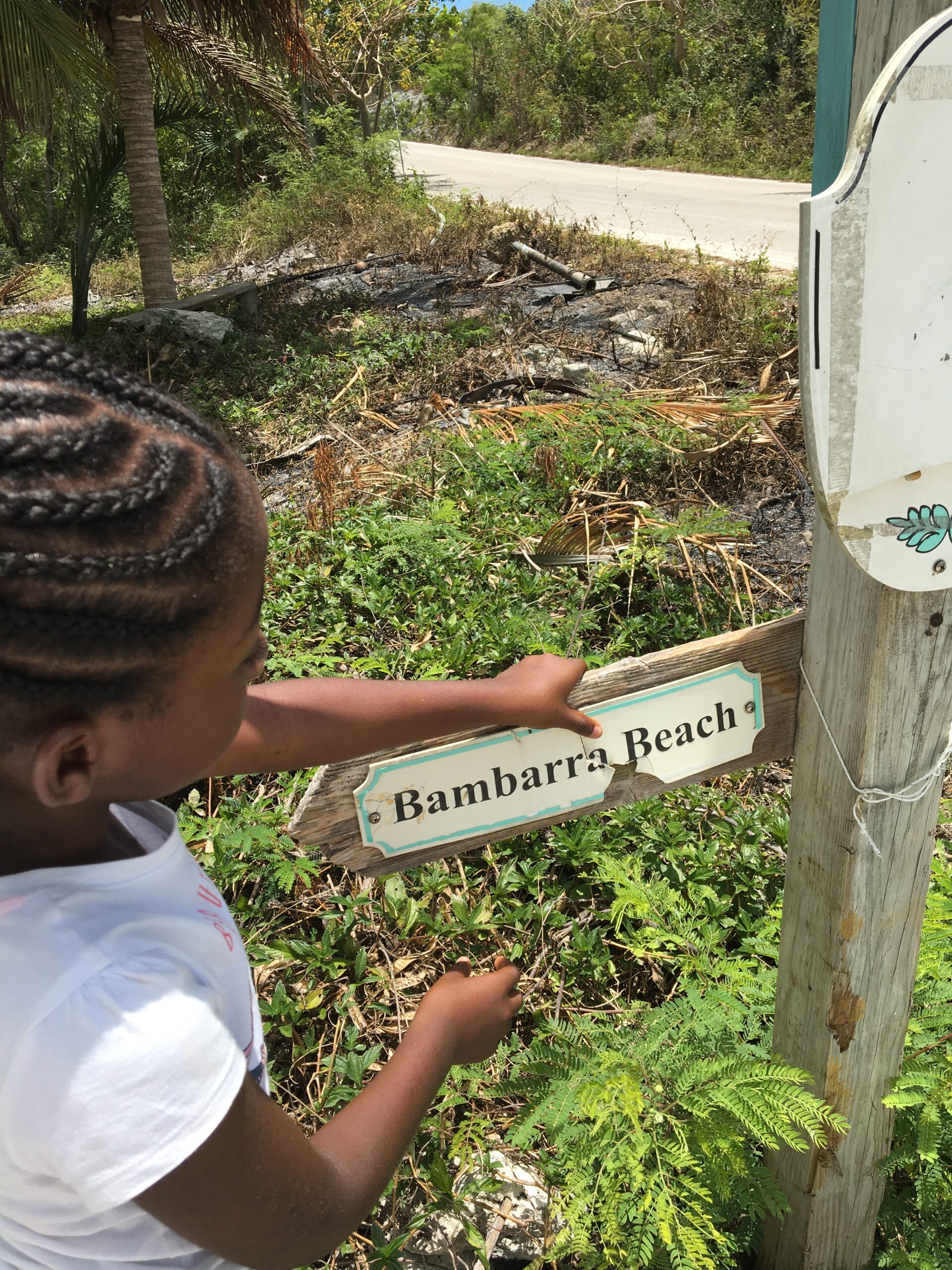 Signs pointed the way to Bambarra Beach. Were pleased to see the new leveled road and soon saw the brightly colored Tiki huts in bright lime green, yellow, and turquoise as well as gorgeous light green waters just beyond a small cay in our view.
You may be surprised to see some folks you know like we did in this lesser traversed area.
We saw our friends from Provo visiting not only at Mudjin Harbour, but also at Bambarra Beach as well. It's always nice to see a friend you know with a welcome smile.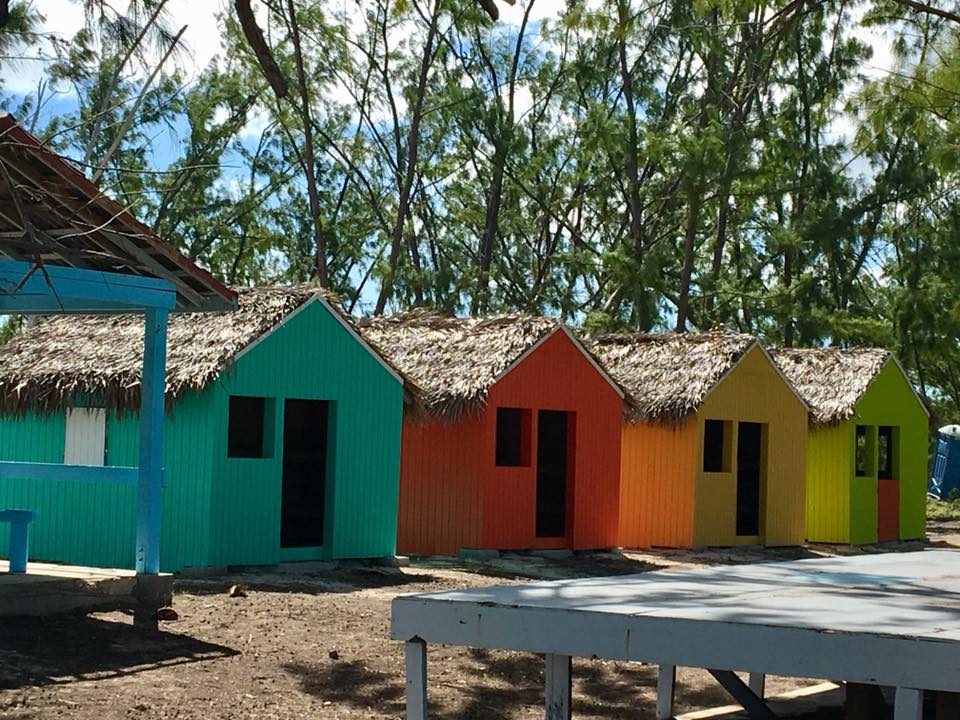 The long awaited time had come to get into the water! If you have not yet gotten to Bambarra Beach, it's great to know that the water is not deep – you have to wade a long way out before it gets a just a little bit deeper which makes it perfect. Many times I wanted to go out all the way to the cay…This time, I was determined to make it happen so off we went! Mind you, it does take a little time to wade through the water and get to that point, but we made it! Adventuring all along the way, we found smooth sand dollars and picture-perfect little shells as mementos of our day trip. We made it to the beach of that little cay, left our mark by piling up some stones, and then headed back – our picnic was waiting to be savored.
With lunch bags set out and the cooler setup, we had a lovely picnic lunch of assorted sandwiches, Caesar chicken salad, fresh fruits, snacks, and dessert. Well worth the wait for a tasty lunch. After a bit of a rest, it was time to back into the SUV and head towards North Caicos and the ferry.
We had just enough time to circle back to Indian Cave.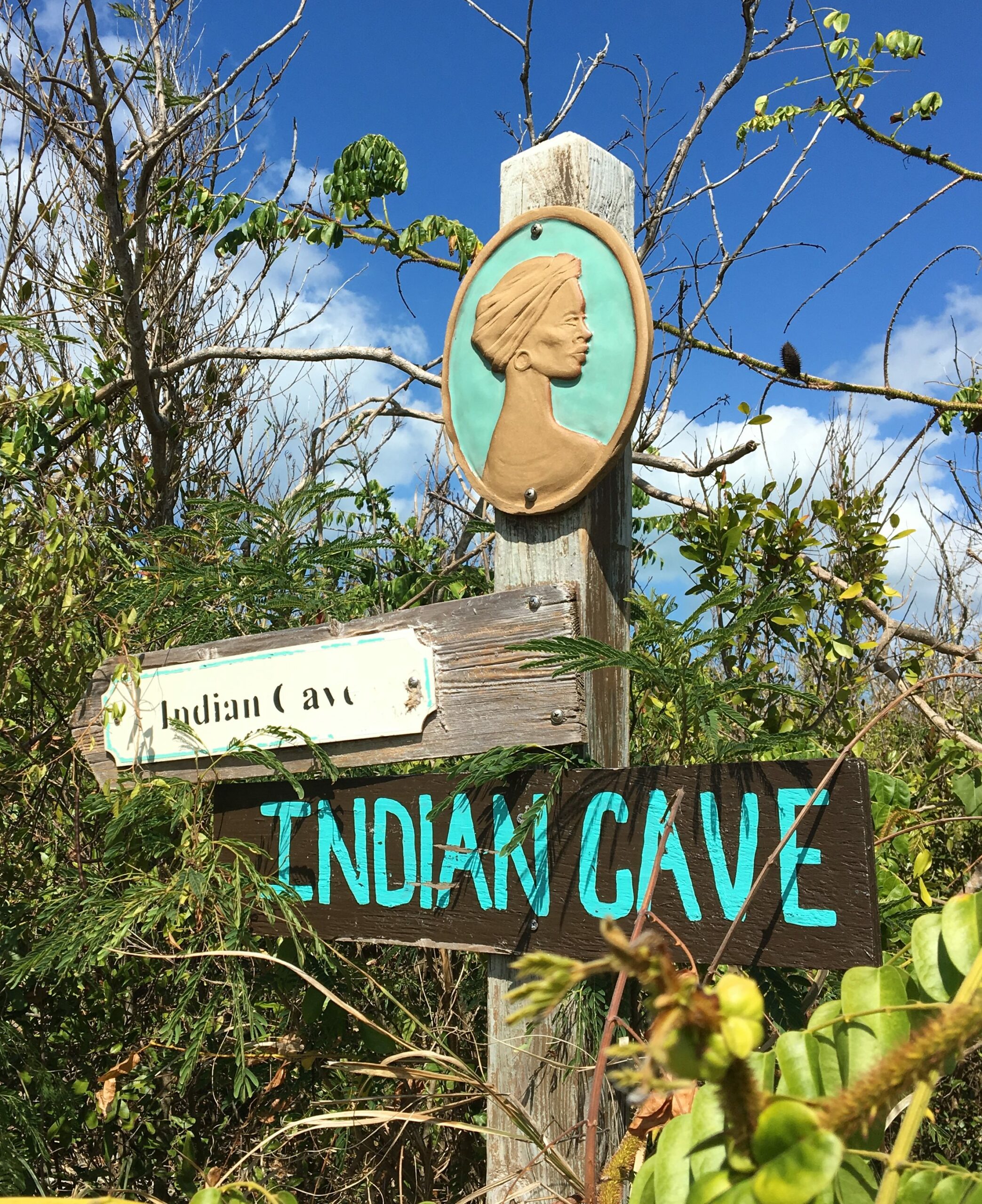 Making our way through Middle Caicos, Karen and the girls spotted the little sign "Indian Cave," of course we pulled over! Car parked, we put on plenty of insect repellent to ward off bugs ~ all the ready for cave exploring. With little rain these past few weeks, it made it comfortable inside this cave.
The pathway was a little overgrown but we know soon enough that will be cleared away.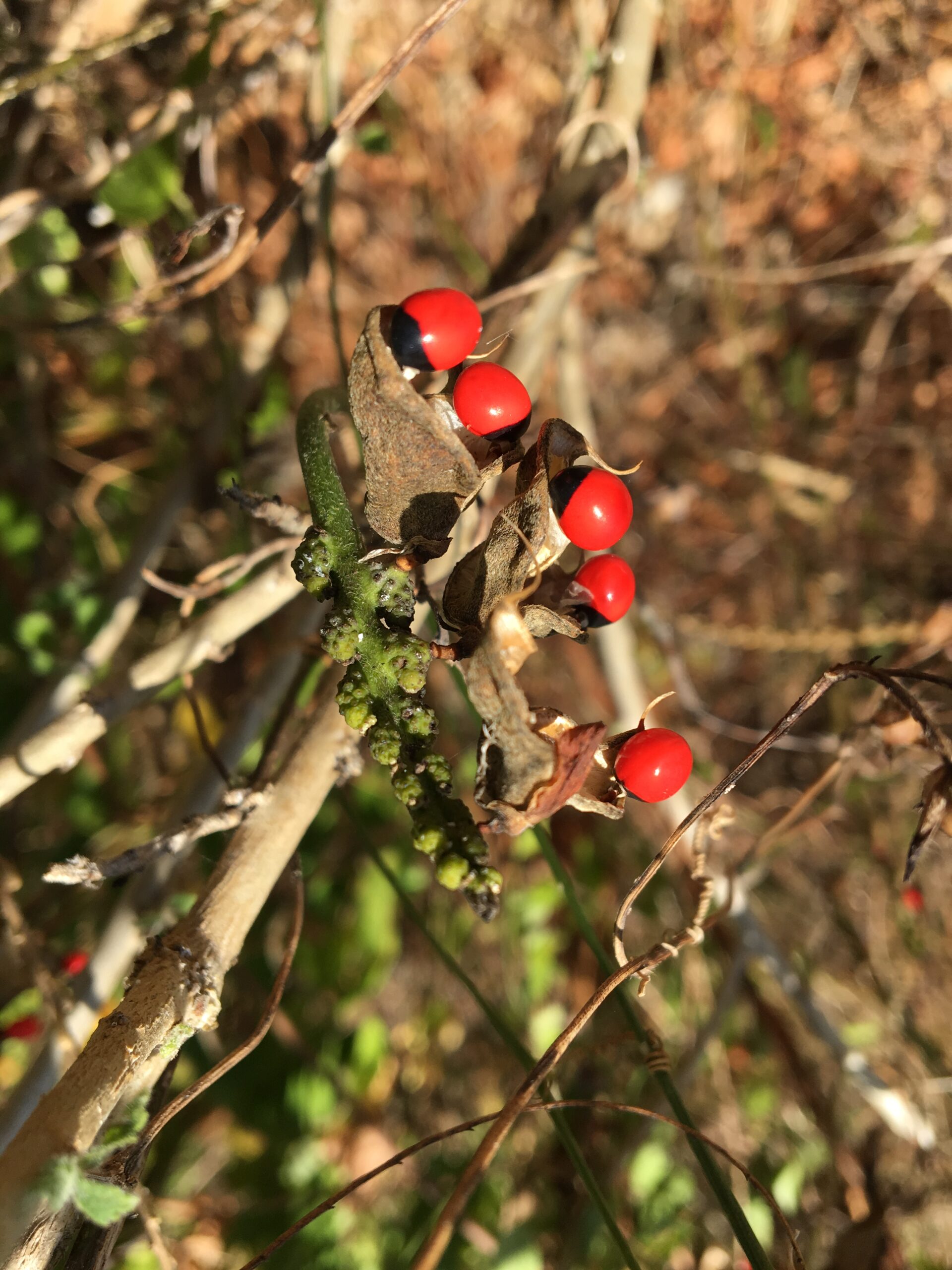 We spotted some interesting sights on the pathway leading to the cave…
Rosary pea or crab's eyes plant , cotton plants, banana spiders, interesting seed pods such as these called Nickernuts , and more.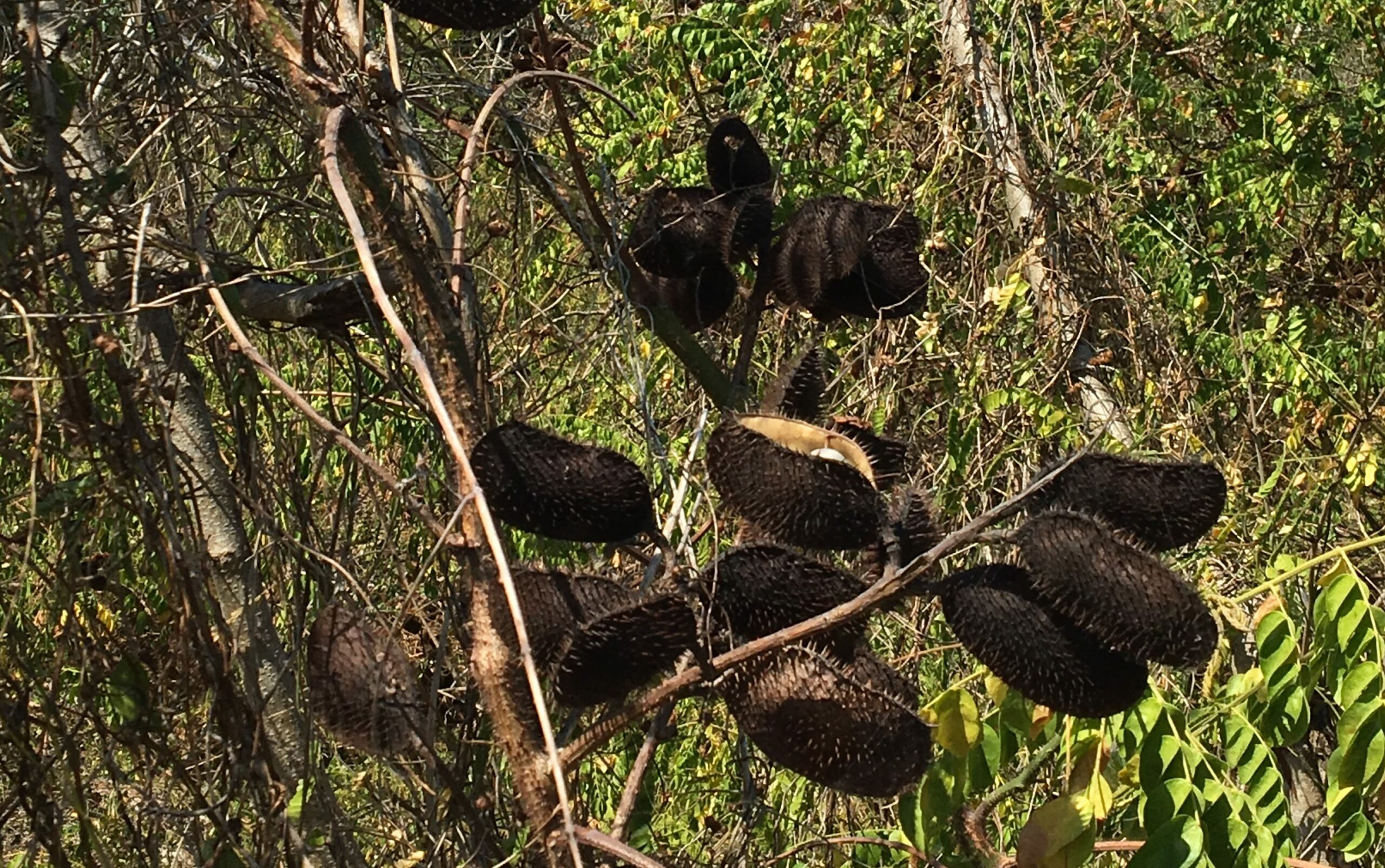 Then, once we got inside the cave, all of the magnificent green colors and long hanging tree roots from the ceiling to the floor welcomed us.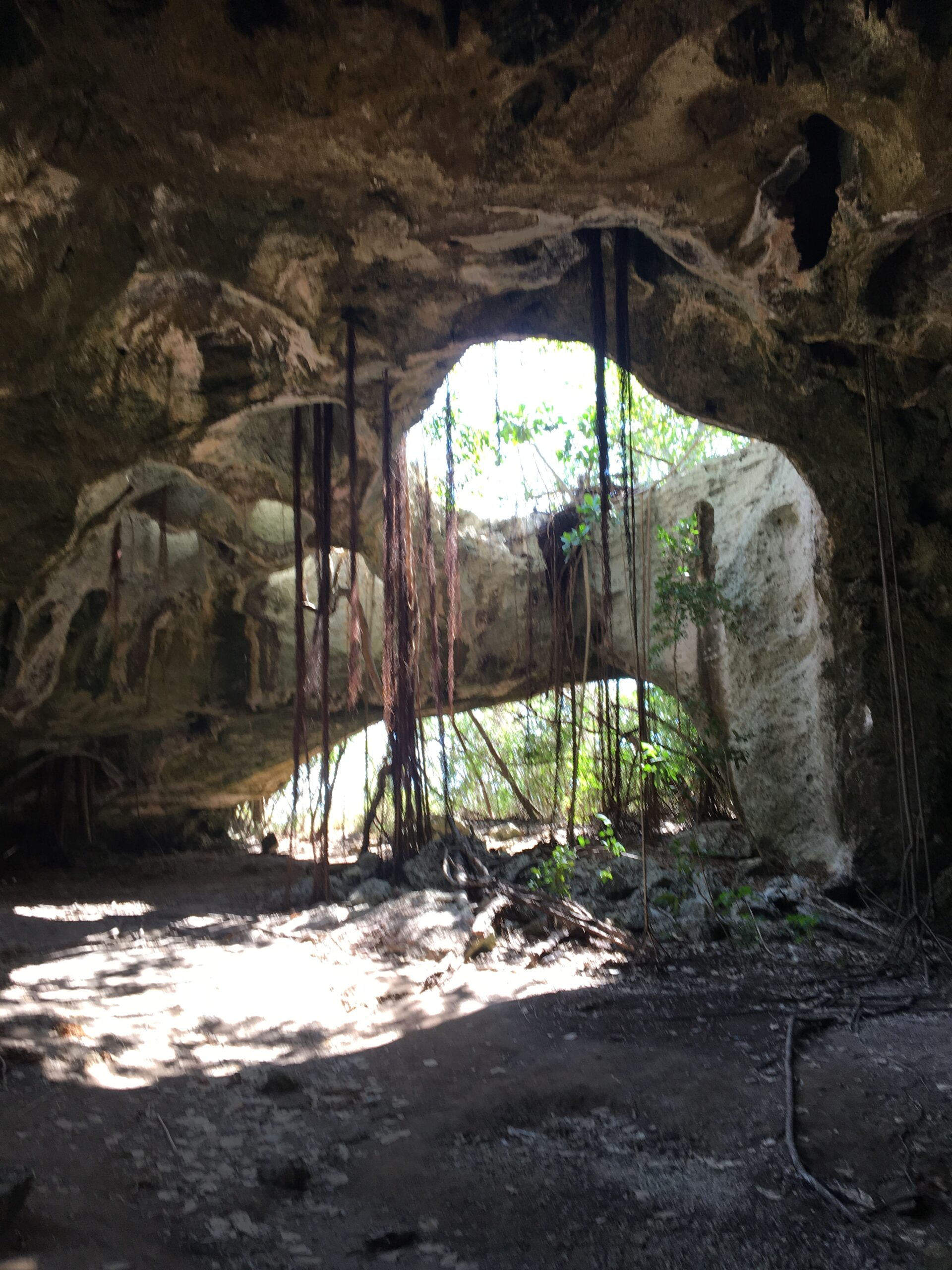 You can feel the cooler temperatures and see the high vaulted ceilings, and understand why this was a safe refuge for the Taino Indians.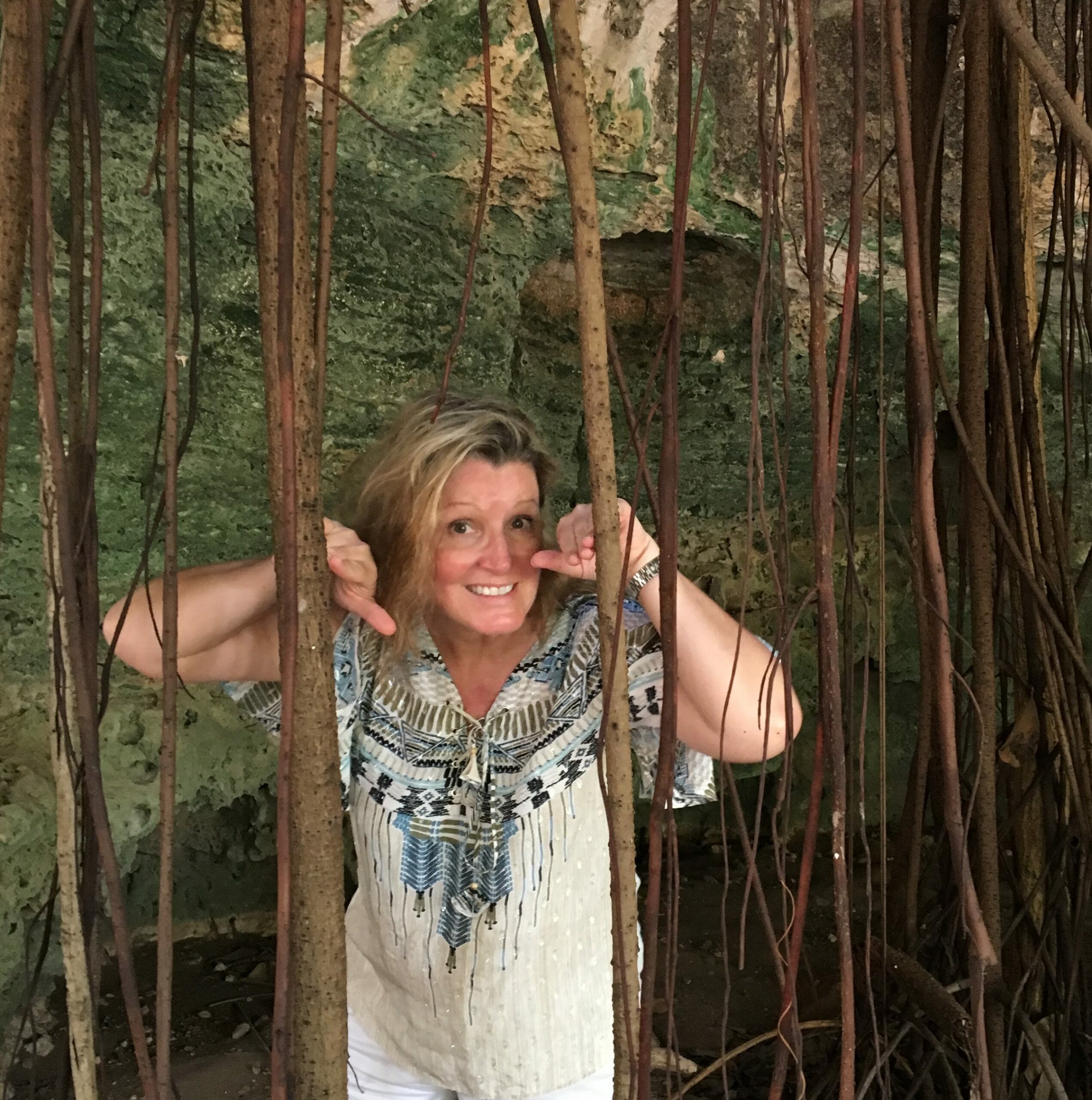 The girls of course we're all taking pictures and selfies for our memory books. I got a picture of Karen peering through those awesome vines. Fun! But now it's time to get back into the car and head to North Caicos so we can make the ferry on time!
Passing through the causeway at Middle Caicos we stopped again to take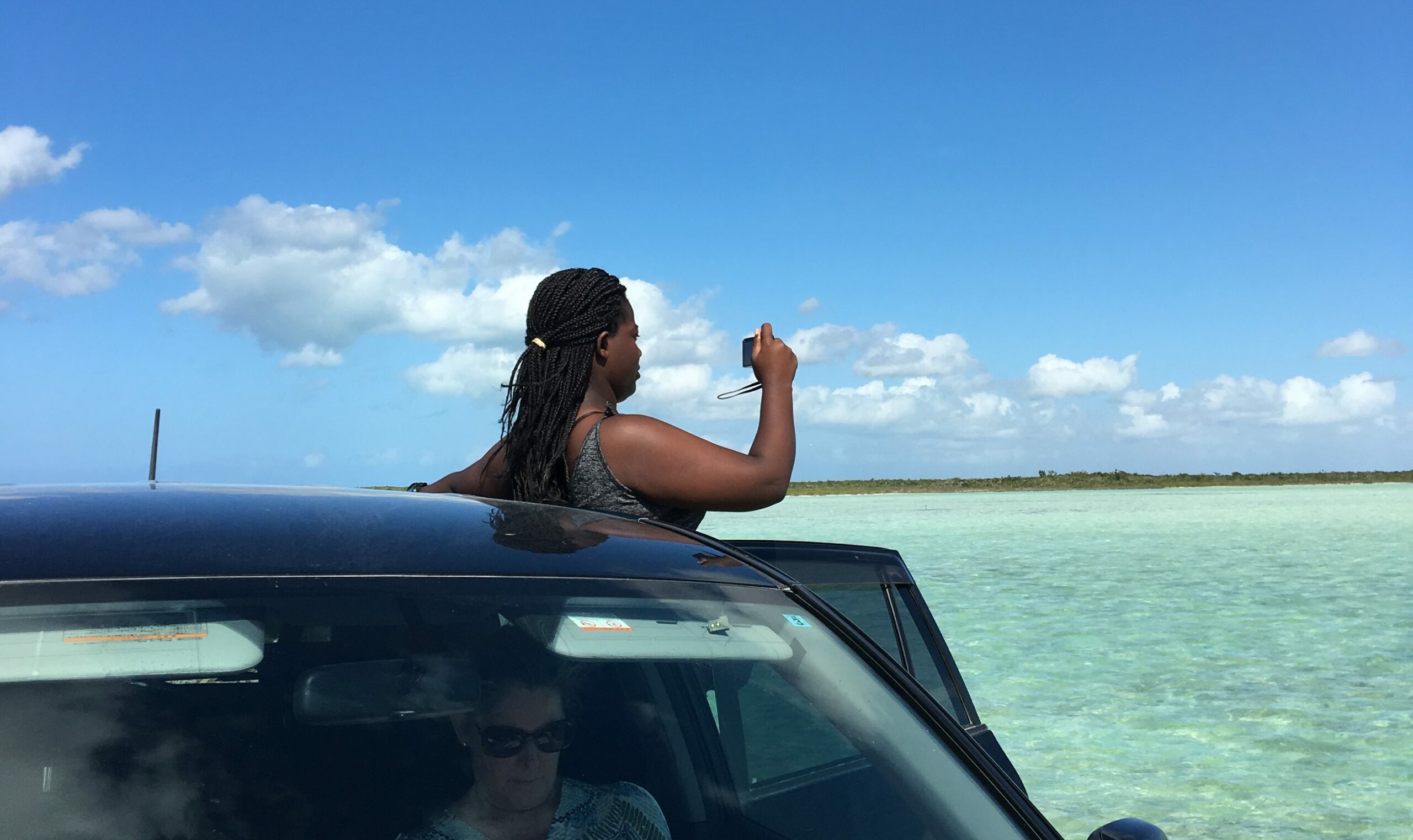 some more beautiful pictures of the shimmery green water, then quickly got back in the car as we waved hello to some more friends from Provo passing us. They were visiting family on the Island. A honk-honk, friendly wave and a hello and we were on our way!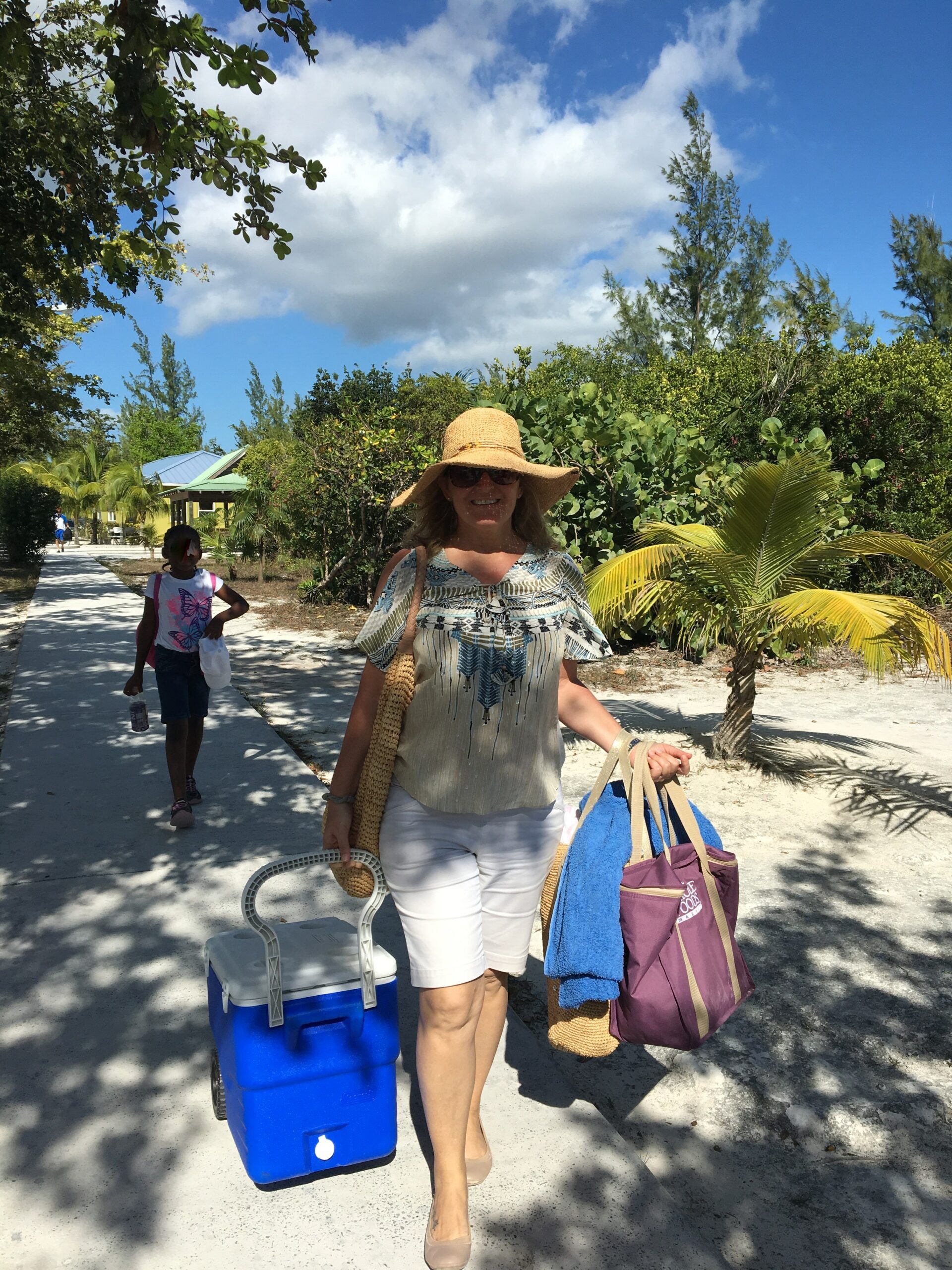 We made it back to the North Caicos dock with 18 minutes to spare. It was just enough to load up onto the ferry. What an adventurous day we all had! We boarded the ferry and within minutes we were well on our way to Provo. On the ferry ride back to Provo we shared more time talking with friends, listening to upbeat TI music, while our minds were saving memories and reminiscing about our day – already we were starting to dream about what our next trip should be. Hmmm, we think it's going to be Salt Cay.
Until then…see you next time!