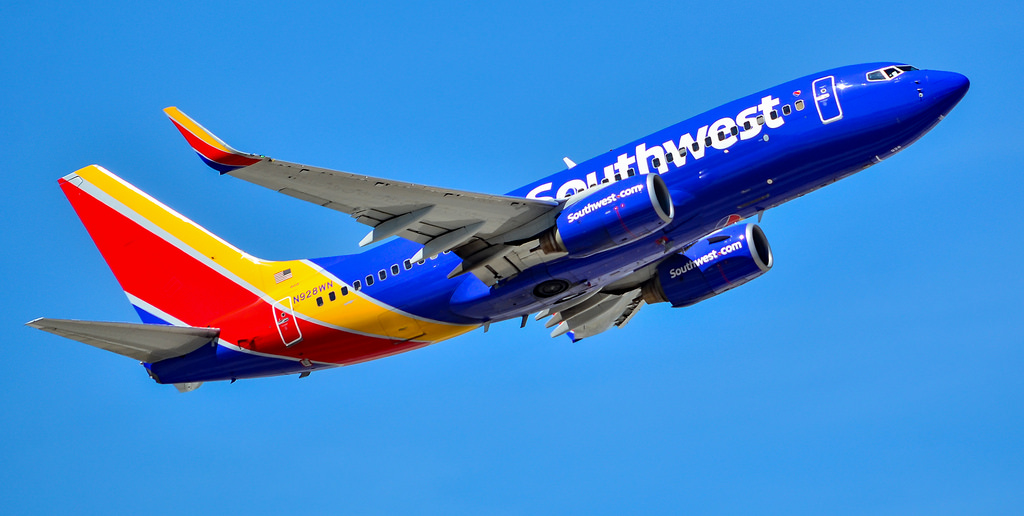 Now that it's officially fall, travel season is almost upon us. The days are growing shorter, and the weather is getting colder and wetter… or worse. To prepare you for the months of icy snow and darkness ahead we have some new information on new Turks and Caicos flights. We also have some tips on how to find cheap tickets to save money on your vacation on warm and sandy Grace Bay Beach.
Southwest to Resume Daily Direct Flights to Turks and Caicos
Southwest Airlines has announced they will resume direct flights from Fort Lauderdale/Hollywood to Providenciales International Airport (PLS) in Turks and Caicos starting November 4.

These flights will connect in Fort Lauderdale to and from cities in the eastern half of the United States such as Baltimore, New York, Atlanta, Orlando, Tampa and Washington DC.
As well  Southwest will be offering new direct flights from Nashville to Providenciales, with service expected to start in November, 2017. Fares and flight schedules to Providenciales have yet to be announced, so stay tuned!
InterCaribbean Launches New Turks and Caicos Flights
If you're planning an excursion to Grand Turk and want to see as much of Turks and Caicos as possible, InterCaribbean's new service may be of interest.
Turks and Caicos-based regional Caribbean airline InterCaribbean Airways has officially commenced its new service from Grand Turk to both South Caicos and Salt Cay.
List of Flights to Turks and Caicos
There are direct flights between Providenciales Airport (PLS) and many cities throughout North America and Canada, including New York, Atlanta, Miami, Toronto and Montreal.
Schedules for fall and winter 2018 are still being determined, so, for daily flights be sure to check the Turks and Caicos Airport Authority, or check out the airlines' websites for up-to-date information:
| City | Airlines |
| --- | --- |
| NYC | JetBlue, Delta Airlines, United Airlines, |
| Boston | JetBlue, Delta Airlines, US Airways |
| Philadelphia | Delta Airlines, US Airways |
| Charlotte | US Airways |
| Atlanta | Delta Airlines, |
| Miami | American Airlines |
| Toronto | Air Canada, WestJet |
| Ottawa | Air Canada |
| Montreal | Air Transat, Air Canada, WestJet |
| Nassau | British Airways, Bahamas Air (direct daily flights) |
| London (Heathrow) | British Airways |
If you want more information, as always, be sure to contact our reservations desk.
Tips on Getting Cheap Tickets to Turks and Caicos
For some people, the actual planning process is one of the most enjoyable parts of taking a vacation. It's always a challenge to hunt down the best flight deals, so here are a few tips:
1. Search for tickets one seat at a time
If you are searching for tickets for your family, if you really want to save money, try searching by one ticket at a time. This is because most automated systems will show you the highest fare for all the tickets. If you try searching one seat at a time, there may be limited seats on sale.
2. Search at midweek
Airlines tend to launch their sales on Tuesdays and end them on Thursdays, so don't limit your searches to the weekends.
3. Fly on a holiday
It may seem counterintuitive, but the biggest savings can be found by flying on the actual holiday, such as Thanksgiving or Christmas Day. The exception is if you're traveling over a three-day weekend—then, everyone is looking to fly on the actual holiday, so that's the perfect time to try and extend your vacation by a day.
4. Fly on a Tuesday, Wednesday or a Saturday
Why? Because planes are least full on these days of the week, these flights usually have the lowest fares.
5. Monitor Twitter, Facebook and airline emails
Follow your favorite airlines on social media in addition to signing up for discount online travel company emails.
Plan Your Dream Vacation on Grace Bay Beach, Providenciales
Experience an earthly wonder of sand and sea at our 114-suite luxury resort on Providenciales, Turks & Caicos Islands, British West Indies.
Family-friendly, yet ideally suited for romantic getaways and wedding celebrations, The Sands at Grace Bay offers a harmonious balance of home comforts and sublime Caribbean elegance – as well as a picture perfect location on the sparkling shores of Grace Bay Beach.
If you are dreaming of a beach holiday in the Caribbean that gives you the flexibility of having your own fully-equipped suite while enticing you with fine dining, pristine grounds and sigh-inducing vistas, we look forward to welcoming you to The Sands at Grace Bay.
Have a travel tip or a question about flights to Turks and Caicos? Be sure to leave a comment!