New PLS Terminal On Schedule For Winter 2014 Completion
The Turks and Caicos Islands Airport Authority recently issued a press release with details on the $10 million dollar Providenciales International Airport (PLS) expansion project that is currently underway. With construction teams working around the clock, the new terminal project is nearly 75% completed and is still on schedule for a winter 2014 completion date. The enhanced PLS airport will be nearly double the size of the old terminal. Travelers will be able to enjoy expanded check-in counter areas and self check in facilities, additional bathrooms, larger space for shops and restaurants, and a larger departure lounge.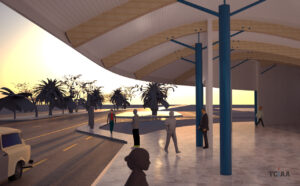 Check-in Kiosk have already arrived and have been installed for passenger usage. Passengers with no luggage can now check in at the kiosk, print their boarding pass and continue through the security check point with ease. Passengers with baggage can still use the check in kiosk, then continue to the counter to drop off their baggage before going through the security check point.