The Sands at Grace Bay proudly supports the Provo Children's Home as its charitable cause – a safe haven and home for orphaned and at-risk children between the ages of 6 and 15 years old in Providenciales, Turks & Caicos. On Sunday, November 30th, the 6th Annual Wrightfully Fit  5K/10K Charity Sunset Run/Walk will take place, with proceeds benefitting Provo Children's Home and TCI's orphaned and at-risk children. The Sands at Grace Bay is participating in this worthwhile event and we hope that resort guests and island visitors are able to join us to help raise money to support Provo Children's Home and Turks & Caicos children. The charity run/walk starts at 4:30pm and there will be an"after party" filled with fun events for the family including music, a raffle drawing, a bar, and entertainment. Not only is the after-party a free event that will be fun for resort guests to attend, but there will also be a silent auction during the party where bidders will have the chance to win amazing prizes including a 2-night stay in an ocean view suite at The Sands at Grace Bay.
Resort guests can sign up and register for the Sunday walk/run at the "Wrightfully Fit" Gym in the Salt Mills Plaza. If you can't run or walk with us on Sunday – you can also donate canned or dry food or your volunteer time to these children in need.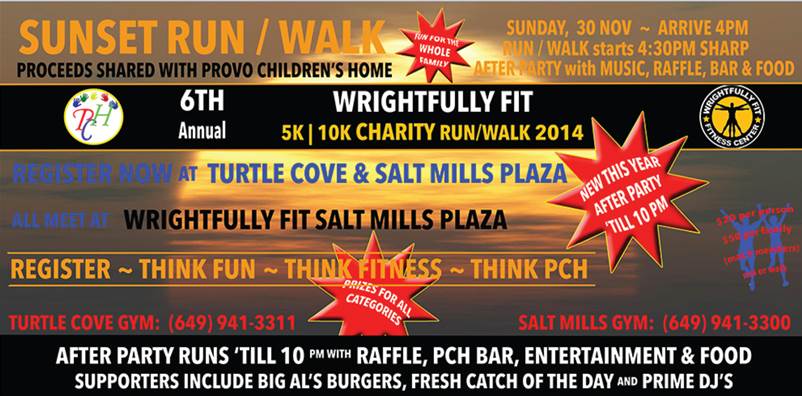 We are especially appreciative for John Wright, who has put this event together for the past six years to raise awareness and funds for the Provo Children's Home. This year 100% of the proceeds from the PCH Bar, raffle, and most of the silent auction will be donated to the PCH. The cost of the run is only $20 per person and $50 for a family of five.  It's a great outing for the whole family, for both walkers and runners as well as for parents with children in strollers, dogs, and companions.
Donations, fundraising events and volunteering of time are all encouraged and greatly needed to help PCHÂ with their daily operations and costs.
Volunteers are also needed in many areas and interested resort guests can find out more information about volunteer opportunities by visiting the following Provo Children's Home site: http://pch.tc/volunteers.html
You may visit the following site to make an Individual Pledge:Â http://pch.tc/pdf/PCH%20365_individuals.pdf